News
---



11.2.06 - Rob Lowe is joining ABC's Brothers & Sisters as a Republican senator and romantic interest for Calista Flockhart's Kitty. Lowe will appear in at least six episodes.

10.13.06 - Michael Ausiello at TVGuide.com: Josh Malina is joining the cast of Numb3rs as a whip-smart, crusading federal prosecutor known for his persistence in going after tough cases. He'll debut in Episode 9 and will likely recur.

10.13.06 - TVGuide.com: Tim Matheson has landed his crosshairs on the plum role of Shiri Appleby's assassin father in the USA Network comedy pilot To Love and Die in L.A., says the Hollywood Reporter.

9.21.06 - Kathleen York (Andrea Wyatt) will have a recurring role on Desperate Housewives this season. So far, the only description of her character that is available calls her "a beautiful readhead mystery woman."



9.6.06 - You can bid on an autographed (by Martin Sheen) copy of "Apocalypse Now Redux" on DVD. All proceeds benefit the ACLU.

8.31.06 - Alan Alda will be on Live with Regis and Kelly on Thursday, September 7th.

8.31.06 - Alan Alda will be on Late Night with Conan O'Brien the night of Friday, September 8th.

8.29.06 - TVGuide.com: According to Variety, Allison Janney has joined the cast of the big-screen musical Hairspray — playing Prudy Pingleton, the overbearing mother of Penny (Amanda Bynes) — and has also inked a deal to produce and star in a CBS sitcom vehicle targeted for a fall 2007 berth.

8.28.06 - Pictures from the Emmys! Stockard Channing, Dulé Hill with Nicole Lyn, Allison Janney 1, and Allison Janney 2 on Zap2It.com. Dulé Hill with Nicole Lyn at the TV Guide Emmys party. Allison Janney along with Elizabeth Perkins and Stockard Channing at the TV Guide Emmys party. Jane Kaczmarek and Bradley Whitford on the red carpet. Allison Janney on the red carpet. Martin Sheen presenting an award along with his son, Charlie. Bradley Whitford and Matthew Perry. Janel Moloney on the red carpet.

8.28.06 - Last night, Alan Alda won an Emmy for Outstanding Supporting Actor in a Drama Series.

8.21.06 - NBC has committed to a sci-fi pilot from Kevin Falls, about a man who travels back in time to right wrongs.

8.2.06 - Zap2It.com: Lowe Has 'Perfect Day' at TNT - 'West Wing' star heads movie's cast Former "West Wing" star Rob Lowe, who enjoyed success with TNT two years ago in "Salem's Lot," is going back to work for the cable network. Lowe has signed on to star in "A Perfect Day," an adaptation of Richard Paul Evans' best-selling novel that will air in December. More...

8.1.06 - Teri Polo (Helen Santos) has agreed to star in "Legacy of Fear," a Lifetime TV-movie.

7.28.06 - All seven season of The West Wing will be released in a box set on November 7th (Election Day!). It is estimated that it will run around $300.

7.24.06 - At the 22nd annual Television Critics Association awards, The West Wing was given the Heritage Award.

7.14.06 - TVGuide.com: Martin Sheen has been cast in a new movie called Talk to Me. In the 1960s-set drama, Sheen will play E.G. Sonderling, the real-life D.C. radio-station owner who hired controversial on-air personality Ralph Waldo "Petey" Green (being played by Don Cheadle).

7.6.06 - The West Wing got 6 Emmy nominations. (If anyone has any advice on how to make the below HTML look better, I'm open to suggestions.)
Outstanding Directing for a Drama Series for "Election Day" (Mimi Leder, Director)
Outstanding Lead Actor in a Drama Series (Martin Sheen as President Josiah Bartlet)
Outstanding Lead Actress in a Drama Series (Allison Janney as C.J. Cregg)
Outstanding Supporting Actor in a Drama Series (Alan Alda as Arnold Vinick)
Outstanding Drama Series
Outstanding Multi-Camera Sound Mixing for a Series or Special for "The Debate" (Edward J. Greene, Audio Mixer, Andrew Strauber, EFX Mixer)
In addition, Stockard Channing was nominated for an Emmy for Outstanding Lead Actress in a Comedy Series for her role in Out of Practice, and Martin Sheen was nominated for an Emmy for Outstanding Guest Actor in a Comedy Series for his appearance on his son's sitcom, Two and a Half Men.

7.2.06 - Dulé Hill's new show, Psych, premieres on USA on Friday, July 7th, at 10pm ET.

6.30.06 - For his role on The West Wing, Jimmy Smits has been nominated for an Imagen Award, which honors positive portrayals of Latinos, and will be handed out on August 18th.

6.23.06 - TVGuide.com: According to the Associated Press, yesterday Rob Lowe got the OK from the Montecito (Calif.) Planning Commission to build a ginormous mansion that a neighbor complains will ruin his ocean view.

5.31.06 - Alan Alda was nominated for a Television Critics Association award for Individual Achievement in Drama. The awards will be given out on July 23rd.

5.29.06 - The May 29th issue of TV Guide gives Jeers to NBC for giving The West Wing a less-than-honorable send-off. After producing a retrospective special featuring clips from the Emmy-winning drama's seven seasons, network executives decided not to air it, apparently because they didn't want to pay the cast memebers extra for it. Instead, NBC re-aired the show's 1999 pilot for the umpteenth time. If you ask us, that's un-American.

5.17.06 - Rob Lowe is set to star in "Stir of Echoes: The Dead Speak," a sequel to the 1999 Kevin Bacon film "Stir of Echoes."

5.8.06 - From the May 8th issue of TV Guide: Bradley Whitford on leaving West Wing and getting the girl

The memorizing was endless. Our first season we were shooting in Washington, D.C., and my character, Josh Lyman, had a huge speech. I have to walk when I memorize, so I went outside and started pacing back and forth, saying the lines out loud. It was a speech railing against moronic Republican congressmen.

Suddenly, a guy comes running around the corner with his gun drawn, screaming at me—"What's your name?! What's your name?!" I drop the pages, throw my hands up in the air and start yelling back at him. "Don't shoot! I'm Brad Whitford. I'm an actor. There's no reason to kill me!"

It turns out I had been pacing back and forth, ranting like a lunatic in front of the FBI National Headquarters. It's always fun trying to convince a guy who's pointing a gun at you that you're on a television show that he's never seen.

There was a lot of laughter on the set. Martin Sheen forgetting people's names. Richard Schiff laughing so hard it actually shut down production. Allison Janney acting so beautifully in her big furry slippers. Josh Malina, who played Will Bailey, thinking practical jokes were funny. You'd go to get in your car at 2am and the door handle would be slathered with Vaseline. I'd get it open and it's filled with trash. If he saw me reading a book, he would tear out the last couple of pages when I wasn't looking. I would like to take this opportunity to say that Josh Malina is a talentless, unemployed fool.

There were difficult times as well. It was a nightmare for us all to lose our beloved brother John Spencer, who died of a heart attack in December. And it was very strange to film Leo's funeral so soon after being at John's.

I think Josh Lyman is going out on a good note. He got to see his man elected president and he got his girl. Finally. Man, we stretched that thing out to the snapping point. I was beginning to wonder about this guy. By the way, the difference between Josh and me is that I don't wait seven years to have sex with someone I'm in love with. Josh and Donna both end up working in the White House, and I believe they are going to be together for a long, long time.

It broke my heart to say goodbye to the show. It was surreal at the end. We had gone through so much together. Martin was very emotional and that was hard. It hit me when I watched Jimmy take the oath of office. And most of all, I knew I was going to miss these people, my dear friends on the cast and crew who were the most important part of this wonderful experience.

5.8.06 - From the May 8th issue of TV Guide: West Wing's Fond Farewell Matt Roush pays tribute to the White House drama's seven-year term

Preparing for an orderly transition and exit, President Bartlet recently insisted to his loyal chief of staff, C.J. Cregg, "We're going to leave with some class."

We don't doubt it. Dignity has always been high on The West Wing's agenda, even during this final season's presidential campaign for Bartlet's successor. It took such a high road—debating actual ideas, shunning dirty tricks and refusing to challenge the razor-thin outcome—that you knew it had to be fiction.

The West Wing is hardly going out in a blaze of ratings glory (those days are long gone), but happily, it's not slinking away in creative disgrace, either.

This seventh season, especially in the campaign episodes, restored idealism and romance to the concept of public service, and not just because Josh and Donna finally hooked up after all those years of sexual tension. If the show lacks the effervescent eloquence and wit of the early Aaron Sorkin years, there's still an emotional kick to watching this modern classic say goodbye.

We have followed this administration through innumerable challenges, with triumphs and scandals (about the president's health, not sex life). Naturally, there have also been tragedies: the death of devoted secretary Mrs. Landingham and, more recently, the real-life passing of John Spencer, who played chief of staff-turned-running mate Leo McGarry.

Presidents always speak of legacies, The West Wing has a proud one. It will be missed, but it's the right time to go.

5.5.06 - From TVGuide.com: Denise Richards, perhaps angry that dad-in-law Martin Sheen ordered a "cease-fire" in her and Charlie Sheen's nasty divorce proceedings, has barred her estranged hubby's folks from seeing their granddaughters, a Sheen family friend tells the New York Post.

5.2.06 - From TVGuide.com: President Bartlet has spoken. Martin Sheen tells Access Hollywood that in the wake of the he said/she said divorce battle going on between Charlie Sheen and Denise Richards, his son is "holding up pretty well. It's sad what's going down, you know it's painful, [but] we have to get through it. I think we have to stop all sides and say cease fire." Suggesting that all involved "focus on what is really important here, [the couple's children] Lola and Sam," the elder Sheen adds, "I have every confidence that Charlie and Denise will eventually become friends."



Rob Lowe by
James Sorensen/NBC
4.21.06 - From TVGuide.com: Rob Lowe Is Seaborn Again on Wing

President Bartlet may not have been eligible for another term, but Rob Lowe has elected to revisit NBC's The West Wing (Sundays at 8 pm/ET). "One line, and Rob was back where he left off," executive producer Lawrence O'Donnell Jr. says of Lowe, who's reprising the role that resurrected his career when The West Wing premiered in 1999.

Lowe left the show in 2002 in a dispute over salary and screen time. Now, with the series coming to an end next month, Lowe has signed on to make two guest appearances, with the first of his episodes airing on April 23.

"It was a great moment," says O'Donnell. "I saw him in the monitor, and he turned toward the camera and I realized that the series would have been incomplete without that moment. Seeing Rob and Brad Whitford together was like the good old days." Adds executive producer John Wells, "You thought it was going to be odd, but it wasn't. It was emotional for Rob, and it gave all of us closure."

SPOILER ALERT: Lowe's return as former White House staffer Sam Seaborn comes after the election that replaced the Bartlet administration with President Matt Santos and his crew. Former Bartlet chief of staff Josh Lyman (Whitford), who works for the new regime, flies to L.A. to convince his old buddy Sam to come aboard.

"Sam doesn't want to do it," says Wells. "He's gotten on with his life. He's working for a law firm and is engaged to be married." But Josh persists, offering Sam the opportunity to become deputy chief of staff. "In other words," Wells says, "Josh wants Sam to become his Josh."

But Josh doesn't make such an enviable role model. "We see Josh as we have never seen him before," says O'Donnell. "He's out of control, he's enraged. It becomes clear that he cannot run the White House without Sam. Sam is the only person who knows how to manage Josh."

Sam also has some personal advice for Josh, who is having relationship troubles with Donna. "Josh has to make a decision about their relationship," says Janel Moloney, who plays Donna. "Sam influences him and tells him: 'You are not just your job.'"

But what about Sam's potential new job? Will he, or won't he? Josh will get the answer when Lowe makes his final visit to The West Wing for the May 14 finale. If our vote counts, he'll say yes.

4.5.06 - Jimmy Smits has been nominated for an Alma Award for Outstanding Actor in a Television Series. The National Council of La Raza's Alma Awards ceremony, hosted by Eva Longoria, will be aired on ABC on Monday, June 5th, at 9:30pm ET.


3.1.06 - TVGuide.com It's official: As speculated ever since it was announced that this is The West Wing's final season, original cast member Rob Lowe will return for the series' last two episodes, reprising his role of Sam Seaborn. Also resurfacing for one or more of West Wing's final five episodes are Mary-Louise Parker, Anna Deavere Smith, Emily Procter, Marlee Matlin, Gary Cole, Tim Matheson, Timothy Busfield and Annabeth Gish. But, alas, no Mrs. Landingham; besides being, well, dead, she's also busy yelling at the Scavo kids.

2.28.06 - Bradley Whitford joins Timothy Busfield, Sarah Paulson, Matthew Perry and Amanda Peet in Aaron Sorkin's new show for NBC, Studio 60 on the Sunset Strip. Whitford will play a producer-director and recovering cocaine addict on the series' SNL-style sketch show-within-a-show.

2.21.06 - USA Network has ordered 13 episodes of Psych, an hourlong dramedy starring James Roday as an amateur sleuth who feigns being psychic in order to help the police solve cases. Dulé Hill plays his best friend, Corbin Bernsen his police-officer pop. Psych is slated to premiere July 7 at 10pm ET.

Martin Sheen and
John Spencer by
James Sorensen/
NBC Entertainment
2.6.06 - TV Guide Online: How Will The West Wing Say Goodbye?
by Matt Webb Mitovich
During this, The West Wing's seventh season, the NBC drama's producers have had to make one difficult decision after another. When should the on-screen election air? Who should win? Could the show continue on past this season, following Bartlet's successor? In the wake of original cast member John Spencer's sudden passing, how should Leo's absence be addressed? And lastly, once it was determined that this would in fact be the final season, how should the show come to an end?
Thinking back to the fall and the issue of the show's longevity, executive producer John Wells says, "We had a decision to make: Do we try to press NBC to continue the series [with] another presidency? Or were we coming to the natural end of our storytelling? The series has celebrated from the beginning the remarkable strength of American democracy, and one of the things that's most dramatic about that is the peaceful passing of power from one leader to another. So, as the numbers were declining, we started to think maybe we'd conclude the series at its natural place."
With that resolved, the next logical matter to tackle was the presidential race pitting Congressman Matt Santos (Jimmy Smits) against Senator Arnold Vinick (Alan Alda). Originally, the contest was to be settled much earlier this season. But once production got underway, executive producer Lawrence O'Donnell says, "We were having too much fun. The campaign was working out better than we thought. The story determined where the election ended up." [The election episodes will air April 2 and 9, after West Wing returns from a Winter Olympics hiatus.]
Who will be delivering a victory speech, and who will be conceding? "It really is something we've been struggling with," says Wells. "We've spent the entire year going back and forth on that question and hearing from people passionate on one side and another." Come mid-January the decision was made — "which we certainly won't share, because it would be no fun," Wells says with a smile.
Of course, with John Spencer's Leo being Santos' running mate, the actor's sudden passing would need to be dealt with on screen, even though, Wells recalls, "we had conversations about whether it was even appropriate to continue to do the show without John." At the end of the deliberation, "the conclusion we came to was that, because John was so wonderful in the episodes [he had filmed but had yet to air], the best homage we could make to his contribution to the show was to let people see the last days of his work. We did not change or edit a single thing."
Since Spencer's death "happened at a point where we thought we had made a decision [about who wins]," Wells says, "it changed a lot of the storytelling" — and put The West Wing in a position to actually plumb new territory by having Leo, too, pass away, and not long at all before the show's Election Day. "We discovered that there really is no constitutional provision for how to deal with the death of a vice-presidential candidate during the electoral cycle," says Wells. "If it happens early enough [that] ballots can be reprinted, the DNC or RNC party can get together and name another candidate. But in the case where it's right up against the election... it's actually a very interesting gray area. It makes for some compelling drama on the show."
Once The West Wing's election is over, a few episodes will be left to air, building to the series' May 14 finale. In those final outings, Wells previews, "We will play the transition into a new government and new presidency, and we will also be spending time with all of the characters you've cared about in the life of the series, talking about where they're going to go and what they're going to do next."
As the final strains of West Wing's trumpeted theme sound and the series takes its final bow, television history will be left with the indelible impression of a show that, among its many accomplishments, was in the right place at the right time. As star Martin Sheen puts it, "We were a fantasy, there's no question. But we had a parallel universe to reality, a reality that changed when the Bush administration came and then with 9/11. As the country moved much further away from the center, we felt that we would give everyone a fair shot, and that we would be honest in what we did and reflect a kind of hope.
"If the real world was reality, we were like a novel," he continues, "and people were reading the novel, getting good ideas and developing a faith and trust in [the country's] leadership. If we go out having done that, I don't think we can ask for much more."
2.3.06 - Mary McCormack has landed the lead in USA Network's In Plain Sight.
1.23.06 - The West Wing will air its final episode on May 14th, not long after the show's presidential election is settled and Jed Bartlet's successor is named. Producers have revealed that the swan song, to be preceded that night by an hourlong retrospective, may feature the return of original cast member Rob Lowe, but not of series creator Aaron Sorkin.
1.10.06 - Jon Bon Jovi will guest star in the March 26th episode.
1.5.06 - Alan Alda was nominated for a Screen Actors Guild Award for Outstanding Performance by a Male Actor in a Drama Series, and the whole cast of The West Wing was nominated for Outstanding Performance by an Ensemble in a Drama Series. The 12th Annual Screen Actors Guild Awards ceremony will be on January 29th, 2006, and will air live on both TNT and TBS.
12.30.05 - Don't miss the lovely tribute to John Spencer on page 11 of the January 2nd issue of TV Guide magazine.
12.29.05 - The January 2nd issue of TV Guide magazine gives Jeers to The West Wing for staging a less-than-complete Bartlet family reunion. When first daughter Ellie (Nina Siemaszko) recently got married on the NBC drama, her sisters Zoey (Elisabeth Moss) and Elizabeth (Annabeth Gish) were inexplicably no-shows. If the writers were able to work mother-of-the-bride Abby Bartlet into the script even though Stockard Channing's busy doing doing another show (Out of Practice), surely they could've made Zoey and Elizabeth bridesmaids.
12.20.05 - TV Guide Online says that the latest word from NBC is that writers for The West Wing are in no hurry to address the off-screen death of original cast member John Spencer, who died of a heart attack on Friday. The political drama, currently on holiday hiatus, has five completed episodes (two featuring Spencer's character, Leo McGarry) in the can. The last one isn't slated to air until March 19, after network coverage of the Winter Olympics.
12.19.05 - E!Online: Which Way for "West Wing"? There's one man who perhaps best understands the predicament faced by the writers of The West Wing in the wake of actor John Spencer's death. Unfortunately, President Taft is unavailable for consultation. More...
12.19.05 - John Spencer died of a heart attack on Friday, December 16th. Writers and producers for the show will be convening this week to discuss how to handle this death in the storyline of the show.
12.15.05 - The West Wing was nominated for a Outstanding Acheivement in Writing for a Dramatic Series by the Writers Guild of America. Eli G. Attie, Debora T. Cahn, Carol Flint, Mark A. Goffman, Alex Graves, Peter R. Noah, Lawrence O'Donnell Jr., Lauren E. Schmidt, Josh Singer, Aaron Sorkin, John M. Wells, Bradley Whitford, and John Sacret Young were all named in the nomination. The episode "A Good Day," written by Carol Flint, was also nominated for an individual award. The 2006 Writers Guild Awards will be given out on Februrary 4th.
12.14.05 - Michael Ausiello of TV Guide online reports that he believe The West Wing is in its last season. While there's been nothing official from NBC yet, sources say that it's all over in May.
12.7.05 - Michael Ausiello of TV Guide Online reports that Aaron Sorkin not only got NBC to pony up a record $2-million-per-episode licensing fee for his upcoming hourlong drama, Studio 7, but the Peacock made a 13-episode commitment to the series sight unseen. And there's more: Reliable sources say the West Wing creator included in the contract a caveat saying that the show can only air between the hours of 9 and 11 pm, Monday to Thursday. Also, Sorkin has approached Matthew Perry to play the lead role, and is putting out feelers to see if Perry's "Whole Nine Yards" co-star Amanda Peet might be interested as a co-lead.
12.3.05 - TV Guide reports that Rob Lowe has been asked to return to The West Wing for one final episode. "I got a call from [executive producer] John Wells to come back," confirms Lowe, who is currently on stage in London for "A Few Good Men" — a play written by West Wing creator Aaron Sorkin. "Aaron was here through all the rehearsals," adds Lowe, "and it was a perfect reunion. If I go back to West Wing, I wish they would bring Aaron, too."
Word is this is the final season of NBC's hit political drama, so Sam's return "would be for the last episode," says Lowe's manager Bernie Brillstein. "They asked if Rob would do the last show and wrap it up. It would be like George Clooney coming back to ER one last time. Rob had four great years on the show, so why not?" —Mary Murphy
11.8.05 - TV Guide Online reports that, on the first Sunday of this November sweeps period, the live debate episode netted The West Wing's highest ratings of the season. Unfortunately, it still couldn't compete with ABC's triple threat of Extreme Makeover: Home Edition (with 18.4 million viewers), Desperate Housewives (24.4 mil) and Grey's Anatomy (19 mil).
11.5.05 - Washington Post: Real Numbers for Fictional Candidates Viewers want Jimmy Smits to become the next leader of the United States, pollster Zogby International said on the eve of Smits's live faux presidential debate with Alan Alda on "The West Wing." On the other hand, viewers think Alda's character is more "presidential," and far better suited for the Oval Office. Only they'd rather not leave their child with him in an emergency. Though they'd vote for Alda if he ever ran for elected office in real life. Scarily, 99.8 percent of these people are registered voters. More...
11.5.05 - Zap2It.com: 'West Wing' Tackles Live Debate Let the presidential debate begin ... even if it isn't for real. At one lectern will be Republican candidate Arnold Vinick, played by Alan Alda; at the other, Democratic challenger Matt Santos, portrayed by Jimmy Smits. The Emmy-winning actors will square off live as newsman Forrest Sawyer "moderates" their characters' showdown on the NBC drama series "The West Wing" Sunday, Nov. 6. As with the live season premiere of NBC's "Will & Grace," the episode will be staged twice: first for the Eastern half of the country, then again for the Western half. More...

The West Wing
by Mitchell Haddad
11.4.05 - TV Guide Online: West Wing Livens Up Dead Debates
by Matt Webb Mitovich
When NBC's The West Wing presents its first-ever live broadcast on Sunday at 8 pm/ET, it will be an experiment not to see who might flub a line amid giggles and titters, but to shed light on the predictable pablum-dispensing exercises that presidential debates have become over the years, as candidates Congressman Matt Santos (played by Jimmy Smits) and Senator Arnold Vinick (Alan Alda) make their strongest bids for the United States' highest office.
"It's very unusual in a [real] debate that a candidate is surprised by a question," notes West Wing executive producer John Wells. "They're usually very rehearsed. So we're planning to solicit questions via the Internet from people who are interested.
"We had a wonderful tradition in this country in which we had debates where [politicians] actually spoke," Wells adds. "[We hope that] people will watch it and [wonder] why we don't have that [candidness] in our government today."
Alan Alda, seldom shy about his own strong political views, says, "I hope the arguments get a chance to be as good as they can be, so that it's a genuine debate that cuts through some of the 'fog' of keeping your bases covered that you see [in real life]. One of the things I don't like about debates is that people act as if they know exactly what the answer is. Sometimes you don't."
Adds Jimmy Smits, "We're going to go out there with a little bit of a net, but riff a little bit, too."
But will the two actors actually believe in what they're saying? As Vinick, Alda — long a champion of liberal causes — is playing a Republican senator for the second time in his career (after The Aviator's Ralph Owen Brewster). "If I were playing the Democratic candidate, there would be things I would not totally agree with; playing the Republican, the same is true," he notes. "I do feel strongly that I want to be convinced by the arguments I'm making." Smits concurs, saying, "You always want your character to have a strong point of view. If it's a position [you don't personally] agree with, but it's a strong one, that's fun to play as an actor."
Now let's get to the heart of the matter: Do West Wing's contenders know which candidate will come out of the live debate as the apparent winner? "No, we don't," says Alda. "And no one [on the production staff] is talking as if they know."
The fictional election's ultimate outcome — the November contest will be settled in a March 2006 episode — is an even greater mystery. So until the final lot is cast, Alda and Smits will make the best cases for their alter egos.
"It's hard to play any character and not want that character to get what he wants," says Alda, explaining his motivation. "I wanted to destroy Howard Hughes when I was in The Aviator, and I saw every good reason to do it, so I could play the guy convincingly. You have to go along with whatever the story is, but of course I want to win. Even in [my] imagination, I'd love to rule the world."
That last statement prompts a concerned Smits to quip, "Alan wants to cream me out there!"
10.24.05 - From the October 24th issue of TV Guide: Like Father, Like Son Martin Sheen may be stepping out of the Oval Office on The West Wing, but on November 7 he's stepping into son Charlie's CBS comedy Two and a Half Men. The elder Sheen will guest-star as Harvey, the father of Rose, who's been stalking Charlie's character for two years. "And he's every bit as bent as his daughter," says creator Chuck Lorre. "He sleeps with Evelyn [Holland Taylor], then he won't leave her alone. He's an obsessed Don Juan."
This is the fourth time the Sheens have worked togther, and the first since Martin did Spin City, in 2002. "When the audience saw Dad they went bananas," says Charlie, who adds his father "will probably return. It's sort of set up that way." —Mary Murphy
10.17.05 - From the October 17th issue of TV Guide: Will Wing's Snitch Confess? West Wing fans, brace yourselves: The show's White House national security leak is not who you think. And you'll never guess why. "When they subpoena vice presidential candidate Leo McGarry, the pressure becomes so intense that the character who leaked the information comes forward," says producer Alex Graves. As a result, adds exec producer John Wells, "a major character will leave the White House and the campaign trail." Chief of Staff C.J. Cregg (Allison Janney) has been tagged as the main suspect. TV Guide knows who the culprit is. But, unlike Karl Rove, we'll never tell. —Mary Murphy
10.17.05 - Zap2It.com: 'West Wing' Creator Sorkin Goes Backstage at NBC - Two years after leaving "The West Wing" over creative and production issues, writer Aaron Sorkin is returning to NBC. The network has ordered a pilot from Sorkin and fellow "West Wing" alum Thomas Schlamme about the backstage dealings on a network sketch-comedy show not unlike NBC's own "Saturday Night Live." More...
10.12.05 - Stockard Channing was sentenced to 36 months of probation after pleading no contest to a misdemeanor DUI charge. She was also ordered to pay a $390 fine and take part in an alcohol education program. Channing was arrested on Dec. 14 after allegedly trying to drive around a roadblock on the Hollywood Freeway.
10.11.05 - The New York Post reports that ex-ABC News anchor Forrest Sawyer will moderate The West Wing's presidential debate between the contenders played by Jimmy Smits and Alan Alda. Since the Nov. 6 episode will be broadcast live, producers reportedly wanted a seasoned newsman instead of an actor who might be "too nervous."
10.7.05 - NBC has confirmed that a live episode of The West Wing, featuring a debate between presidential candidates Santos and Vinick, will air on Nov. 6. Two separate versions will be shot, one for the East Coast and one for the West.
9.19.05 - Once Martin Sheen has finished up his second term at The West Wing, he'll move behind the scenes to exec-produce a sitcom about a guy rooming with his gay brother, his brother's boyfriend and the straight man's mother-in-law, a fundamentalist Christian. The Hollywood Reporter adds that the premise is reminiscent of a sitch that arose in Sheen's own extended family.
8.30.05 - USA Network has signed James Roday in the lead role opposite Dulé Hill in the drama pilot project Psyche, thereby lifting the cast contingency. The story is about a guy (Roday) who passes himself off to police as a psychic and helps solve crimes. Hill plays Roday's best friend. The project is from writer Steve Banks and Tagline Pictures.
8.22.05 - TV Guide Online reports that Martin Sheen will be doing a guest appearance on his son's CBS sitcom Two and a Half Men this upcoming season. Previous attempts to thave the veteran actor hang with the Men were waylaid by his schedule and other commitments (as leader of the free world and all). But now that West Wing's Jed Bartlet is on his way out of office, Sheen is available. "We're thrilled to have him," says son Charlie, "and I think it's going to be something really special [when he guest-stars]. It's just sad that he's coming because he has a little more free time this season!"
8.21.05 - In an article on TV's Top 10 Scene Stealers in the August 21 issue of TV Guide Emily Proctor (Ainsley Hayes) is #4 as ballistics expert Calleigh Duquesne on CSI: Miami.
8.17.05 - From the August 14th issue of TV Guide: They're Going Live!
How do you breathe new life into aging TV shows? Go live! At least that's the plan for two Emmy-nominated NBC series, The West Wing and Will & Grace.
The West Wing is planning to do a live special during November sweeps that will revolve around a heated debate between presidential hopefuls Matt Santos (Jimmy Smits) and Arnold Vinick (Alan Alda). "We are in negotiation with NBC to do a live debate," confirms the show's executive producer John Wells. "We would actually film the hour leading up to the debate, the on-stage [action], all the backstage [stuff] and the aftermath."
Meanwhile, on September 29, Will & Grace will kick off its eighth and final season by doing two separate live telecasts at 8:30pm Eastern and Pacific times. Although the episodes will include some serious gags, little will be left to chance. "We'll rehearse more, that's for sure," says star Eric McCormack. "We usually don't rehearse that much because we like to keep it fresh, but we probably shouldn't make as many mistakes in the live episode."
-Bruce Fretts, with reporting by Mary Murphy and Michael Ausiello
7.26.05 - During the NBC press tour, entertainment president Kevin Reilly said that John Wells and Co. may still be on the fence about who'll be The West Wing's next president, Alan Alda or Jimmy Smits. "They had an idea," he says, "but... I think now they're kind of wrestling with how to change it up."
7.26.05 - At a recent press event for her new show, Stockard Channing said that she was committed to three episodes of The West Wing for this upcoming season, adding that she thinks the Bartlet administration will be gone by Christmas.
7.14.05 - Emmy nominations are out, and The West Wing was nominated for Outstanding Drama Series, while Alan Alda and Stockard Channing were nominated for Outstanding Supporting Actor and Actress in a Drama Series respectively. The 57th Annual Primetime Emmy Awards show will be broadcast on Sunday, September 18th on CBS.
6.17.05 - From TV Guide Online: The West Wing's New Flight Plan
by Mary Murphy
Don't count The West Wing out yet. The once-mighty series may have lost much of its buzz, but its loyal and upscale audience was enough to filibuster cancellation. Still, expect major changes when the seventh season begins this fall — starting with a move to Sundays at 8 pm/ET. Budget and potential pay cuts may result in the exodus of some veteran cast members. And if producers have their way, a certain dead Desperate husband will be returning to Washington.
"We had a licensing reduction of 50 percent [from NBC], and every actor's contract has to be renegotiated," executive producer John Wells says. "My hope is that everybody is going to want to come back."
So far, Martin Sheen (outgoing President Jed Bartlet), Alan Alda (Senator Arnold Vinick) and Jimmy Smits (Congressman Matt Santos) are signed for the new season. So is Stockard Channing (First Lady Abigail Bartlet), who will shoot her West Wing scenes around the schedule of her new CBS sitcom, Out of Practice.
Another familiar face likely to return is Steven Culp — best known as Desperate Housewives' casualty Rex Van De Kamp, who was poisoned by a pharmacist with a crush on his wife, Bree (Marcia Cross).
TV Guide has learned that negotiations are under way for Culp to reprise his West Wing role as House Speaker Jeff Haffley. "The whole plan for last fall had to be scrapped once he landed such a big hit," Wells says. "But now he is available again. We just have to figure out what we will do with the character."
The presidential election will certainly be the major story this season — and don't assume that the liberal-leaning show will put Santos, a Democrat, in the Oval Office. "We sit down and we plan where things are going to go, but the people you cast make a huge difference in how stories change for the future," Wells says. So should we expect Republican candidate Vinick to win the election? "Well, it would make for good drama, wouldn't it?"
5.24.05 - Rob Lowe and Julia Ormond will star in Lifetime's miniseries "Beach Girls" this summer. The six-hour limited series, based on the novel of the same name by Luanne Rice, follows the relationship forged by three girls in a beachside community as teenagers. They drift apart in adulthood, until the death of one of the three brings her family and the other two girls back together. Lowe will play the husband of the dead woman, who along with his daughter (Chelsea Hobbs, "Lords of Dogtown") travels to the beach town of Hubbard's Point to connect with his wife's past. Ormond will play another of the three friends. Chris Carmack ("The O.C.") has also signed on to the cast, playing a local guy who catches the eye of Hobbs' character. "Beach Girls" is set for a two-hour premiere Sunday, July 31. The remaining four episodes will follow on Sundays through Aug. 28.
5.18.05 - Stockard Channing's new show with Henry Winkler, Flesh & Blood, has been officially picked up by CBS. The sitcom is about a family of single doctors.
5.17.05 - NBC announced their fall schedule yesterday, and The West Wing will be moving to Sundays at 8pm ET.
4.25.05 - Rob Lowe is set to headline a stage revival of Aaron Sorkin's "A Few Good Men" in London beginning this August. "I try to make it a policy to stay on good terms with the few geniuses I know in the world," Lowe told Variety. "There was never a problem between us, and this was a case of kismet. I called him, and when he told me he was adapting the play for the West End, it was exactly what I wanted to do."
4.21.05 - Stockard Channing pled not guilty Wednesday to drunken-driving charges stemming from an incident late last year when she allegedly tried to drive around a roadblock on the Hollywood Freeway. The next hearing is scheduled for May 26.
4.8.05 - An untitled CBS comedy pilot about a family of doctors has cast Paula Marshall to join Christopher Gorham, Stockard Channing and Henry Winkler.
4.4.05 - Zap2It.com: Smits Diplomatic About 'West Wing' Future - Jimmy Smits seems to have learned a few things about being a politician from his time on "The West Wing" this season. Like how to answer a question without really answering....
3.24.05 - From TV Guide Online: Jimmy Smits for President
by Daniel R. Coleridge
Will Jimmy Smits win The West Wing's upcoming fake Democratic presidential nomination? We're guessing that's pretty much a yes, though NBC's making viewers wait until the sixth-season finale on April 6 for full confirmation. But more importantly, do Smits' fans — who by then will have enjoyed him for 18 of this season's 22 episodes — need to worry whether he'll return for WW's seventh (and possibly final) year?
"All of us players who have been involved this season will be part of next season, in some form or another," Smits confirms. Regarding his chances of beating out Alan Alda to succeed Martin Sheen as the prez, he says, "My hiatus will be a little bit like, 'Hmm... I wonder, wonder, wonder.' I'm OK anyway it goes. The way [executive producer] John Wells set it up, there's so much fodder for story lines that could happen, and we're all up for that."
Smits' fans everywhere just let out a collective "Phew!" But what does this mean for his series-development deal with ABC? "It's definitely in place," Smits says. "I've got my offices at Touchstone. The deal is comprised [sic] in such a way that it doesn't kick in until after The West Wing is over."
The 49-year-old actor plans to spent his aforementioned WW hiatus meeting with various writers and producers about prospective star vehicles for himself. So has he any good post-Wing TV projects ahead of him? "There's a couple of things that really look good," Smits teases, "but you know I'm not gonna talk about them."
3.17.05 - NBC has confirmed that The West Wing has been picked up for a seventh season.
3.16.05 - Variety reports that NBC is very close to finalizing a deal that will bring The West Wing back for a 7th, and possibly final, season. Apparently, Warner Bros. is prepared to give NBC a huge discount on the show in exchange for the renewal, slashing the show's $6 million per-episode license fee in half.
2.24.05 - Variety reports that Janel Moloney has scored the title role in the upcoming CBS telepic "Witness: The Amber Frey Story."
2.24.05 - The West Wing won the award for best television drama at last Saturday's 57th Annual Writers Guild Awards.
2.23.05 - From TV Guide Online: Lily Tomlin's Favorite Flop
by Tim Williams
Back in the '60s, Lily Tomlin burst on the scene in the flower-powered series Laugh-In, where she created classic characters like the precocious Edith Ann and phone-operator-with-attitude Ernestine. But the quirky Tomlin has never been just a comedian. Her performance in Roger Altman's 1975 film Nashville made it clear she had more than sketch comedy on her mind. With I Heart Huckabees (out this week on DVD), Tomlin again shows off her crafty acting and takes on some serious existential questions. Here, the ex-hippie treats TVGuide.com to some groovy gossip.
TVGuide.com: Huckabees looked fun to make. Had you and Dustin Hoffman worked together before?
Lily Tomlin: No, but we came close one time, back when Robert Evans was producing Popeye. They wanted Dustin as Popeye and me as Olive Oyl, but that never happened. Dustin is a real rascal and a very playful person. I thought I was going to be a little nervous or intimidated around him, but he doesn't let that happen.
TVG: What did you think of the rest of your costars, like Jude Law and Mark Wahlberg?
Tomlin: I hate to go into how really nice everyone was — but they were! Actors are like kids playing, so why would someone want to be known as a jerk? I've been on sets where someone won't come out of their trailer, but that has to do with feelings of insecurity.
TVG: The film didn't do that well at the box office. Did that upset you?
Tomlin: Well, [director] David O. Russell is a very original filmmaker and it's an extremely unusual film. I love it; I've seen it six times. I just hope more people see it on DVD. It's a real emotional and intellectual trip.
TVG: We've heard you're doing another film with your old pal, Robert Altman.
Tomlin: I'm hoping that happens. It's based on the [National Public Radio] show A Prairie Home Companion, and I'm supposed to work with Meryl Streep, [whom] I know but have never [gotten] to work with.
TVG: Care to reminisce about your TV days on Laugh-In?
Tomlin: You know, I thought Laugh-In was square and I chose to do another show called The Music Scene, but it lasted only half a season [on ABC in 1969]. We'd have concerts with Jimi Hendrix. It aired before a show called The New People, which was kind of like Lost, but parents were irate because these long-haired dopers were in prime time. So when it got canceled, I went to see [Laugh-In producer] George Schlatter and he immediately [cast] me.
TVG: Do you like it when fans come up and do impersonations of your Laugh-In characters?
Tomlin: You mean when they say "one ringy-dingy"? I enjoy it — what could be a better connection with another human being than having the same sense of humor?
1.11.05 - Allison Janney was nominated for SAG Award for Outstanding Performance by a Female Actor in a Drama Series, and the whole cast was nominated for Outstanding Performance by an Ensemble in a Drama Series. The awards will be presented on Saturday, February 5th, at the Los Angeles Shrine Exposition and will be televised on TNT at 8pm ET.
1.11.05 - Fox has ordered a drama pilot called Amy Coyne from West Wing writer Kevin Falls about a woman who inherits her father's sports agency following the sudden death of her father.
1.8.05 - Zap2It.com: Chenoweth Takes 'Wing' - Rising star Kristin Chenoweth is learning that it's possible for a performer to be just a little too much in demand by her peers. The Tony-winning actress, who sings the demanding role of Cunegonde in a PBS "Great Performances" presentation of "Candide" Wednesday, Jan. 12 (check local listings), recently spent a lonely Thanksgiving tucked into bed with her Maltese, Maddie....
12.16.04 - Showtime has ordered 10 episodes of a series called Weeds (Lions Gate Television). The show stars Mary Louise Parker as a newly widowed wife/mother (think "soccer mom" type), who without an alternative source of income, decides to grow marijuana to support her family. The project also stars Kevin Nealon and Elizabeth Perkins. The show is scheduled to debut in 2nd or 3rd qtr 2005.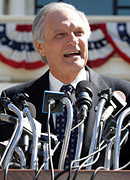 12.7.04 - TV Guide Online: Alan Alda for Senator
by Daniel R. Coleridge
Back in 1979, Alan Alda played a Ted Kennedy-esque senator in The Seduction of Joe Tynan. He returns to fictional political office in tomorrow's West Wing (9 pm/ET on NBC). Although he's well-known to be a member of Hollywood's liberal set, Alda joins the cast as Republican senator — and presidential hopeful — Arnold Vinick. The M*A*S*H star denies having any political qualms about taking the role.
"Although this guy on The West Wing is a Republican, he's one of those [idyllic] candidates because he's moderate on social issues and conservative fiscally," Alda says. "He is willing to debate issues, looks to do good for his country and is not trying to use public service as a way to increase his holdings in the bank.
"What I'm trying to do with my character is to show what's possible in the democratic process, not look at how awful they are," he adds. "We see how awful it is every night on the news."
Alda certainly sums up the White House drama's spirit very neatly. Sounds like he's angling for Martin Sheen's job once President Bartlet's term expires. "It seems like everybody's falling apart!" he jokes. "I think I'm coming in at the right moment."
But seriously, Hawkeye. "I'm gonna do five episodes this season and five next season," says Alda, who adds he's unaware of any plans for Vinick to actually win the Oval Office. "I don't know what [producer John Wells and his writers] have in mind, but I seriously, strongly doubt that I'd want to do a weekly show. Before I even get to that, what would they do with all these Democrat [characters] that they have under contract if I took office? Let's get serious here."
Meanwhile, Alda can currently be seen on the big screen in yet another senatorial gig. "I'm coming out as a senator twice in the same month!" he laughs. "This other senator I play in The Aviator [costarring Jude Law] is totally scuzzy. What a creepy guy."
12.6.04 - Zap2It.com: Alda Throws His Hat in the 'Wing' - When "The West Wing" was starting up back in 1999, Alan Alda was reportedly one of the actors considered to play President Jed Bartlet, the role that eventually went to Martin Sheen. The story may be apocryphal. If it is true, the show's creator, Aaron Sorkin, and NBC must not have pursued Alda very doggedly, because he doesn't really recall it....
11.17.04 - A TVGuide.com reader emailed Mike Ausiello, worrying that John Spencer was ill in real life since he looks frail this year and his heart attack storyline takes him off the main stories. Mike Ausiello assured the reader that Spencer's "frail" appearance is the result of a new diet, not some mysterious illness. Turns out, Leo's health scare served as a profound wake-up call for the actor. "Leo worked himself into a heart attack by not taking care of himself," Spencer told Ausiello's colleague, Mary Murphy. "Unlike Leo, I do not want to burn out completely. I do not want to have a heart attack in the woods. Since [I shot that episode] I have taken much better care of myself. I went on a nutritional diet, I hired a cook to make health meals, and I did the thing I have been trying to do for years — I stopped smoking."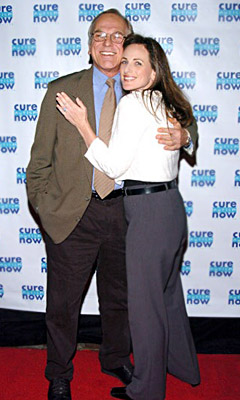 11.12.04 - TV Guide Online: Love is in the air: Marlee Matlin was joined by her former West Wing costar John Spencer at Cure Autism Now's Acts of Love benefit.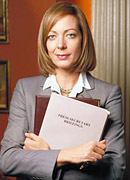 11.4.04 - TV Guide Online: West Wing's C.J. Promoted

by Daniel R. Coleridge

As reported by TV Guide Online last month, Leo McGarry's sudden heart attack will prompt The West Wing's President Bartlet to appoint himself a new chief of staff: C.J. Cregg. In tonight's episode (9 pm/ET on NBC), the spunky press secretary learns the stunning news of her promotion. Yeah, we can just hear you asking, "Isn't the choice of a PR flack to fill Leo's shoes just a bit silly?" Well, here's what the flack in question thinks...

"I'm sure it came up with [the writers]," says Allison Janney, "and yet, they found it a fascinating way to go and not that far-fetched. At the White House, job descriptions don't necessarily define who trusts your input. It's more relationship-driven, and C.J. has proved herself a respected member of the administration.

"When I first heard about it, I was terrified," she admits. "Then I thought, 'Why not? It's TV.' C.J.'s a great role model. This is very positive for women. I don't think there's ever been a female chief of staff before, so why not?"

Speaking of White House staffing problems, we'll wager the current cast is angsty about talk that a new administration may come in to replace Martin Sheen's Bartlet. Wouldn't that mean the show's stars will lose their jobs?

"It does make for some paranoia," the 43-year-old Janney chuckles. "We're all like, 'Are we gonna have a job?' But as John Wells has said, it's unrealistic that C.J. would be press secretary for that many years. The turnover is high in these [White House] jobs.

"Anything is possible," she continues. "I certainly hope that if they go into the next administration, and if there's room for C.J., they'd ask me to be a part of it. If not, I'm happy with the ride I've had so far, and I'd go on and do something else. I don't know what's gonna happen. It's a little scary, but you never know what's next."

Meanwhile, Janney looks forward to new challenges for C.J., as well as new love. "There are plans underway to bring someone in for C.J.," she confirms, although she'll spill no specifics on whom. In case you're wondering, it's not Jimmy Smits.

"[Smits] certainly fits the height requirement for C.J.," the 6-foot-tall actress laughs, "but his character is happily married. Although we're trying to get C.J. happy in her personal life, I don't think she'll go there. But boy, he's nice to look at."

10.20.04 - Aaron Barnhart's TVBarn: 'The West Wing' returns on a grim note - "Ideas! I want new ideas! C'mon!" we hear Martin Sheen's Bartlet stammering as he paces the Oval Office early in the season premiere of 'The West Wing' (9 ET tonight, NBC). That might as well be John Wells speaking....

10.20.04 - Associated Press: 'West Wing' Eyes Successor for Bartlett

(it's really too bad they spelled the president's name wrong)

The prospect of a change in the White House tends to draw a strong reaction, pro or con. Not from "The West Wing" executive producer John Wells, though. He seems unfazed by the coming end of Democratic President Josiah "Jeb" Bartlet's tenure — and maybe even a Republican successor.

"We were a year and a half into the administration when we started the show," Wells said of the NBC drama entering its sixth season.

"We have term limits in this country and so, on our electoral schedule, Bartlet's second term would end a year from this coming January."

That fact foreshadows a hybrid season when "The West Wing" returns Wednesday (Oct. 20, 9 p.m. EDT). Bartlet (Martin Sheen) grapples with his legacy while others fight for the chance to replace him.

Among them are contenders played by two familiar actors: Jimmy Smits ("NYPD Blue"), who's a potential Democratic candidate, and Alan Alda ("M-A-S-H") vying for the GOP nomination.

Also in the running is Vice President Russell (Gary Cole), with talented staff member Will Bailey (Josh Malina) at his side.

Could Wells envision "The West Wing," if re-elected by NBC to a seventh season, with a Republican president?

"I really could," he told The Associated Press. "What we've tried to put forward in the Bartlet administration is a Democratic presidency that was a bit of wish-fulfillment of what you'd really want your Democratic president to be. I don't think there's any reason you wouldn't want to see that show with a Republican."

Is he concerned that the show, called "The Left Wing" by those who find Bartlet's politics grating, might be seen as making the move to pander to conservatives?

"I think it depends on who the Republican candidate is and how you feel about the candidate by the time he or she is elected," he said.

Series creator Aaron Sorkin cast Bartlet in the same liberal mold as the leader in his 1995 film "The American President." Sorkin, who left the series in 2003, could not be reached for comment, a spokeswoman said Wednesday.

Change could reinvigorate the series' ratings, which dropped from a season-high average of 17.2 million viewers in 2001-02 to 11.8 million viewers last season.

But Wells, whose relationship with NBC is bolstered by the other shows he provides, including longtime linchpin drama "ER," said "The West Wing" ensures an affluent viewership for sponsors and that he's confident of renewal.

A new commander-in-chief, from either party, would mean wholesale changes in the White House staff and the cast. But Wells told a phone news conference Wednesday that he hopes current stars would be able to remain — although that's less likely with a Republican administration.

He's also hoping that Sheen, whose contract is up this year, decides to come back for another season and maybe for post-presidency appearances.

Before the NBC show wades into the heat of primary contests and before Bartlet gives up power, there are lingering issues to resolve.

At the end of last season, growing violence in the Middle East led to the death of prominent U.S. officials and left an angry Bartlet weighing military action — and now trying to revive the Israeli-Palestinian peace process.

The Gaza Strip attack also critically injured Donna Moss (Janel Moloney), who was part of the traveling White House contingent along with her boss, deputy chief of staff Josh Lyman (Bradley Whitford).

Whether Donna survives (and whether she and Josh finally become an item) are obvious cliffhangers. Wells promises other immediate upheaval in "The West Wing."

"There are substantial changes in the White House at the beginning of the season, within the first two episodes," Wells said.

Involving the White House staff that viewers know and love? "In the staff that we know and love, things are happening," Wells says, with vague discretion that would make a bureaucrat proud.

After the dust settles, the latter part of the season will focus on the campaign trail with Smits' and Alda's characters and on how Bartlet delivers his swan — or lame-duck — song.

"How does the Bartlet administration deal with the remaining time they have in trying to be effective?" Wells said. "What does he really want to accomplish in his remaining year in office?"

Writers for the series, which makes a point of drawing on real-world Washington expertise, asked former Reagan and Clinton administration figures to reminisce about their second-term experiences.

Politicos returning as advisers for the season include former Clinton press secretary Dee Dee Myers and Laurence O'Donnell, who worked for the late Sen. Daniel Patrick Moynihan.

Two newcomers are former Clinton economic adviser Gene Sperling and Reagan chief of staff Ken Duberstein.

They're all crucial to the series, Wells said.

"The most important thing about writing the show, as far as political issues go, is having arguments. We have to have people in the room to argue both points — and they do," he said. "It's a load of fun. It's actually my favorite part (of creating the show): You get to sit there and listen to these people harangue each other."

Will the series be affected by the outcome of November's President Bush-Sen. Kerry election?

"I would say a lot of that depends on how the election itself goes," Wells said. "If its as close or contested as the last election, that may have an impact."

For some viewers, he speculated, the desired goal is fantasy rather than reality.

"I think we have a number of viewers who showed up after (the 2000) election because they felt that who they wanted in office wasn't there, so they came to see what Bartlet did."

This is the first season "The West Wing" has returned without a best-drama Emmy in hand. After four consecutive wins, the award went to HBO's "The Sopranos."

Wells said he was pleased with the outcome. The mob drama was overdue for a win, he said, and "The West Wing" can proceed without the question of whether it or any show is worthy of so many laurels.

Some critics argue the political drama fell short of the dramatic heights reached when Sorkin was on board, through the end of the 2002-03 season.

Wells largely disagrees but acknowledges the challenge of shifting from a show written by the prolific Sorkin to one relying on a new staff of writers.

"We had the experience of changing drivers in a race car in the middle of the track doing 200 mph. ... It was as difficult a thing as I have ever been involved in creatively," he said, adding: "A lot of the shows we were very proud of."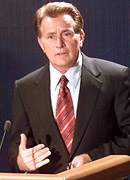 10.14.04 - From TV Guide Online: Martin Sheen's West Wing Dilemma
by Daniel R. Coleridge
The real-life showdown between Dubya and Kerry happens next month, but The West Wing's timetable for presidential elections is, of course, different. They've got more complicated considerations than Washington politics, like actors' employment contracts!
Just to catch you up: Back in 1999, NBC's White House drama launched almost two years into President Josiah Bartlet's first term. In Season 4, Bartlet (aka Martin Sheen) defeated James Brolin to score himself a second term. Presidential fever heats up again in Season 6 (beginning Oct. 20 at 9 pm/ET) when various guest stars — including Jimmy Smits and Alan Alda — start surfacing as candidates for Sheen's Oval Office digs. The decision as to when Sheen will pass the torch rests entirely in the star's hands, though.
"This is the last year of Martin's contract, and he has to decide what he wants to do next," says executive producer John Wells. "It would be our preference to do the election next season. But if Martin tells me around Christmastime that he doesn't want to do any more beyond this season, we may accelerate that. We may choose to speed up [the election], we may choose to do something else. We haven't made any plans yet for if he doesn't [come back]. We're in full denial!"
For more of this story, which contains some big spoilers of the upcoming season, see the previews page.
10.13.04 - TNT has a pilot from Spelling Television and Jorge Zamacona, and starring Gary Cole. The drama project features Cole as the head of an elite crime fighting unit based in southern California.
10.11.04 - Kristen Chenoweth joins the cast of The West Wing this season in a recurring role as a media consultant to the White House.
| | |
| --- | --- |
| | Kevork Djansezian/Associated Press |
9.20.04 - Allison Janney won an Emmy last night for Outstanding Lead Actress in a Drama Series. This was her fourth Emmy for her role as C.J. Craig, two as Supporting Actress and two as Lead Actress. Also, Mary Louse-Parker won her first Emmy for Best Supporting Actress in a Miniseries for her role in HBO's "Angels in America."

8.24.04 - NBC's The West Wing will get some new faces this season beginning with Alan Alda as a republican senator from California. Also, Marley Shelton returns as a feature reporter who becomes the W.H. deputy press secretary. No news yet if anything has been finalized with Jimmy Smits, but Mary McCormack will return this season as a regular character.

8.23.04 - Alan Alda is joining the cast as a senator. For more info on his role, see the previews page.

8.16.04 - Jimmy Smits (NYPD Blue) is currently negotiating for a recurring role as a Congressman from Texas.

8.5.04 - Mary-Louise Parker has been cast in a new Showtime pilot called Weeds. It is about a fine upstanding woman looking to support herself after the sudden death of her husband, and turning to the growing, harvesting, and selling of marijuana.

7.15.04 - The West Wing received 12 Emmy nominations: Outstanding Drama Series, Outstanding Lead Actor in a Drama Series (Martin Sheen), Outstanding Lead Actress in a Drama Series (Allison Janney), Outstanding Supporting Actor in a Drama Series (John Spencer), Outstanding Supporting Actress in a Drama Series (Janel Moloney and Stockard Channing), Outstanding Guest Actor in a Drama Series (Matthe Perry), Outstanding Art Direction for a Single-Camera Series ("Gaza"), Outstanding Casting for a Drama Series (casting by Laura Schiff), Outstanding Cinematography for a Single-Camera Series ("7A WF 83429"), Outstanding Sound Editing for a Series, and Outstanding Single-Camera Sound Mixing for a Series. The awards ceremony will air live on ABC on Sunday, September 19th, from the Los Angeles Shrine Auditorium, and will be hosted by Garry Shandling.

6.18.04 - Don't miss Rob Lowe in Salem's Lot on TNT this coming Sunday and Monday nights.

6.18.04 - TV Guide Online reports that Universal Pictures has tapped Aaron Sorkin to adapt George Crile's nonfiction book Charlie Wilson's War for the big screen. The story focuses on how a Texas congressman and a CIA agent helped assist the Afghan rebels in their fight against the Soviets in the 1980s.

6.17.04 - From Daily Variety: All great dynasties must come to an end. "The West Wing" has won Emmy's drama series statuette four straight years -- every year it has been on the air. But, if listening to TV insiders is any indication, a fifth straight win for President Bartlet would make for a greater comeback story than Truman over Dewey. More...

6.14.04 - The Hollywood Reporter: Summer lovin': "It is hot in Tennessee," Allison Janney says in a slow, Southern drawl, perfected for a little independent film called "Our Very Own" but dampened by the 100-plus degree temperatures. The Emmy-winning actress doesn't sound at all irritated by the heat or the work, and maybe it's because she's in love with her co-star. Janney got engaged in early May to actor Richard Jenik, and the two are spending part of their summer vacation working together for the first time on film. "This is especially great," she says by phone from the set. "It's our dear friend's movie, Cameron Watson, and it's about his time growing up here in Shelbyville. (All of us on the project) are all very good friends, and it's a dream come true. The fact that Richard and I are working together for the first time, and we got to do a scene together that wasn't written in the original script but the director let us put in so we could do something together. It was great experience, and I hope we have many more. I think it's so rare when couples get to work on projects together." "And stay a couple," Jenik finishes, as they both laugh. It's clear they plan on staying together and hopefully, as Janney says, continue to work together. The two met through a mutual friend about six years ago and have been dating for the past 18 months. Up next for Janney and Jenik is a trip to visit their respective parents, training their new dog, Chauncey, and planning the upcoming nuptials. "My 'West Wing' schedule leaves open basically Christmas and next hiatus, so we're trying to figure it out unless we go to Vegas and do it on the sly," Janney says. Just like Britney Spears. "Hopefully ours will last a little longer," Jenik remarks.

6.1.04 - The Hollywood Reporter: Can NBC's "The West Wing" earn its fifth consecutive outstanding drama series trophy and tie the consecutive outstanding-series win record held by the NBC comedy "Frasier"? Or will this be the year voters finally anoint HBO's "The Sopranos," with the series joining its perennial acting winners Edie Falco and James Gandolfini? More...

5.26.04 - On Memorial Day (May 31st) Bravo will air viewers' choice marathon of The West Wing. Ten episodes will air starting at 2pm and continuing until 11pm. Viewers can vote online for their favorite episodes at BravoTV.com.

5.26.04 - Allison Janney's boyfriend of two years, actor Richard Jenik, popped the question during a romantic getaway in San Francisco on May 17th. Janney, reportedly, said yes. Congratulations!
5.26.04 - From TV Guide Online: Rob Lowe's Vegas Gamble
Two years ago, Rob Lowe quit The West Wing with dramatic flourish. Then his follow-up gig, 2003's The Lyon's Den, was swiftly canceled by NBC for low ratings. TV hasn't soured on Lowe, though. CBS has greenlit dr. vegas, an hourlong dramedy featuring Lowe as the in-house physician at a Las Vegas casino. Well, it's a funny premise, Sin City is a TV hotspot (CSI and Las Vegas are set there), and the cast includes Joey "Pants" Pantoliano. So what's not to like?
"Good! I'm glad you get it!" Lowe tells TV Guide Online, sounding relieved. "People are saying, 'I don't get it. Is he a serious doctor or is he comedy? What is it?' This is fun and different for me."
It isn't hard to grasp the allure this role holds for an actor of Lowe's high caliber and, well, considerable self-esteem. "I went to Sunrise Hospital in Vegas to research and I saw these critical-care doctors literally bring a baby back from death," he says. "Then, when you're done with that, man, the adrenaline is pumpin'. You hang that stethoscope up, and if you're single and into gambling... You're in Vegas! Sky's the limit!
"I was really interested in playing a guy like that," Lowe enthuses. "A stud f---in' doctor in the operating room — but when he leaves, he's an adrenaline junkie who takes the town for all it's worth."
Although Lowe's a producer on this series, he plans to leave the shot-calling to executive producer Jack Orman (ER). "On The Lyon's Den, I was so exhausted making that show," he admits. "I swore to myself I'd never do it again like that. I can't micromanage everything because I gotta be onscreen for such a large portion of the show. Here, I can sit back and trust it's in really good hands."
While Lowe doesn't mean to be the boss on dr. vegas, old habits die hard. "I found the theme song and picked it," he chuckles. "I told them, 'You don't understand. This is our theme song.' It's 'Get Yourself Connected' by Stereo MCs. I defy you to turn the TV channel on that song!"
5.21.04 - Bradley Whitford has booked two films for his summer hiatus. He will be in "Sisterhood of the Traveling Pants," an adaptation of the best-selling Ann Brashares book, as well as a romantic comedy called "Little Manhattan."
"Sisterhood of the Traveling Pants" is being directed by Ken Kwapis (Malcolm in the Middle) and is an adaptation by Delia Ephron and Elizabeth Chandler. It's a coming-of-age story revolving around four friends during the first summer they spend apart. They vow to keep in touch by circulating a magical pair of secondhand jeans that fits each of them perfectly. Whitford plays the father of one of the girls and Nancy Travis (Becker) plays his fiancee. Also starring are Alexis Bledel (Gilmore Girls), Amber Tamblyn (Joan of Arcadia), America Ferrera, Blake Lively, and Jenna Boyd.
"Little Manhattan" is written and directed by Mark Levin and Jennifer Flackett, and is described as being in the spirit of "My Girl." It centers on a love story between two 11-year-olds. Whitford plays the father of the boy who will be played by Josh Hutcherson. The film will shoot in New York starting next week.
5.20.04 - CBS has confirmed that Rob Lowe's new show, Dr. Vegas, will air this fall on Fridays at 10pm ET.
5.19.04 - From Zap2It.com: 'West Wing' Romance? Actors Aren't in Love with It
They've been dancing around the subject for five seasons now, and on the season finale of "The West Wing," it looks like White House staffers Josh Lyman (Bradley Whitford) and Donna Moss (Janel Moloney) might finally realize they're in love.
Unless, you know, they don't.
"I'm not sure this will turn into anything other than just a deeper part of their platonic relationship," Moss says of the two characters. "I wouldn't be surprised if that were the case."
The situation in Wednesday's (May 19) finale is certainly ripe for a declaration of love. The penultimate episode saw Donna seriously injured when, on a fact-finding trip to the Gaza Strip, her car was bombed, killing two congressmen and retired Adm. Fitzwallace (John Amos). Josh is overcome when he hears the news, and later flies to the German hospital where she's been taken for treatment.
President Bartlet (Martin Sheen), meanwhile, struggles with the question of responding to the attack on the American delegation, with his advisers calling variously for military or diplomatic action.
Whitford and Moloney seem a little ambivalent about whether their relationship should take a romantic turn. On one hand, Whitford says that when he's asked the will-they-or-won't-they question, "My standard answer is I've always been ready to move further with our relationship, and I'm just waiting for the pages to come down."
Yet he realizes that such a relationship might not ring true in the context of the show. However "The West Wing" differs from the real-life White House, its depiction of staffers not having much of a life outside work is on the nose, Whitford says.
"Partially because there's a kind of hierarchy to them" -- Donna works for Josh -- "acting upon romantic feelings would be kind of inappropriate," he says. "But it's also a very realistic situation of working in the White House, where people are usually too busy to have relationships."
Moloney is aware that a number of the show's fans are rooting for Donna and Josh to become a couple, but she thinks just about as many are hoping they don't. She also says that showrunner John Wells is concerned that "it's gonna get silly" if a romance is thrown into the mix.
"I think three-quarters of the fun is just, you definitely wanting them to get together," she says. "One of the incredibly artful things about this accident and him coming to Germany is you get to see the relationship become very intimate. There's an intimacy and an emotionality that you haven't seen between them that's pretty fun, I think.
"I'm not sure it's totally necessary to put them together. I know that a lot of people want us to, but I think it's probably 50-50. I think a lot of people don't."
"The West Wing" certainly doesn't want to succumb to the David-and-Maddie syndrome, in which characters (like those in "Moonlighting") become less interesting when after taking the romantic plunge. Whitford puts it this way: "Unlike life, there's nothing more boring on television than consummation."
by Rick Porter
5.19.04 - From TV Guide Online: West Wing's Love Dilemma
White House staffers Josh Lyman and Donna Moss have been through so much on The West Wing. When he was shot, she was there for him. Now, she's been injured in a terrorist car-bombing, and he's there for her. They've had it rough, but darn it, they're still single, available and breathing! So why don't these two political vets just hook up already?
According to Donna's portrayer, Janel Moloney, Josh and Donna will grow closer as she recovers from her injuries in that German hospital. "You get to see the relationship become very intimate," she tells TV Guide Online. "There's an intimacy and an emotionality that you haven't seen between them."
Now, hold on. This teasing thespian doesn't mean that kind of intimacy. "I'm not sure it's totally necessary to put them together," Moloney says. "Like a lot of us, [WW producer John Wells] has a fear it's gonna get silly if we start running around together romantically. Three-quarters of the fun is you desperately wanting them to get together! I think it's very good for the show."
"There's a wonderful thing — it certainly was not intentional — that happened in the dynamic between these two characters," adds Bradley Whitford, who plays Josh. "The writers think it's pretty precious. It's very hard to write a romantic comedy in this day and age — if you like somebody, you just jump in bed with them! But here, you have a situation where it makes sense that these characters [don't]. There's a hierarchy [at work, so] acting upon romantic feelings would be inappropriate. There's also this very realistic situation of working in the White House, where people are usually way too busy to have a relationship."
Whitford also thinks sex would spoil the duo's intellectual chemistry. "Part of what's fun to play — that you would put at risk by completely embracing a romantic relationship — is that Josh's arrogance is constantly punctured by Donna. [She] very often sees things more clearly on sophisticated issues that Josh doesn't see."
Excuses, excuses. Well, if they won't resolve this will-they-or-won't-they stuff, at least these West Wingers can solve one mystery for viewers: What's up with Josh calling Miss Moss "Donnatella"? Is that really her first name? "Yes, in fact. In the first scene of us together in the pilot, he called me Donnatella," Moloney reminds us. "Whenever I get in trouble or he's making a point, he calls me Donnatella. And when I testified [in court], I said my real name."
by Daniel R. Coleridge
5.17.04 - NBC has announced that The West Wing will keep its 9pm ET Wednesday time slot for its 6th season starting next fall. However, The West Wing will divide its season into two halves, with 8 episodes of a new show called "Revelations" airing in the middle.
5.10.04 - By the way, in case you hadn't heard, The West Wing has been officially renewed for a 6th season by NBC.
5.2.04 - The May 2nd issue of TV Guide reports that The West Wing is developing a fatal attraction to Glenn Close. If the scheduling can be worked out, the Oscar nominee will reprise her role as Supreme Court Justice Evelyn Baker Lang next fall. "We have a story we want to do with her, and she's interested," reports executive producer John Wells. "It'll be for one, maybe two episodes."
4.30.04 - In their first project since exiting "The West Wing," Aaron Sorkin and Thomas Schlamme will join forces at New Line on "The Farnsworth Invention," a drama about how Philo Farnsworth invented TV technology and was robbed of the glory by broadcast pioneer David Sarnoff.
Project was sold as a spec package. After entering into exclusive negotiations early this week, New Line agreed to pay $2.5 million against 2% of gross for Sorkin to write and produce, with Schlamme receiving just north of $1 million to direct the film and produce.
Script is set in the late 1920s, when the 22-year-old genius from Utah became the first to capture a moving image in a box. That led to a skirmish with rival scientist Vladimir Zworykin, who years earlier had filed a patent for the technology even though he hadn't made it work until Farnsworth's invention.
Since Zworykin was under the employ of radio giant RCA and Sarnoff, the young mogul who ran the broadcasting giant engaged in a take-no-prisoners battle for control of the invention that would change the world.
New Line president Toby Emmerich made the buy and will oversee the project. "The way (Sorkin) portrayed Philo and Sarnoff on the page, I'd say (they were) two of the best characters I'd read in a movie script over the last 10 years. They are adversaries, but it is subtle and sophisticated. It is a compelling drama that will have the feel of 'Seabiscuit' in that it covers one of those periods in the country where everything changed."
Sorkin and Schlamme met while working on the Sorkin-created series "Sports Night," and then became exec producers on "The West Wing."
Thanks to David for sending this along.
4.7.04 - Peter Isaacs ("Peter Pan," "Black Hawk Down") will play a photographer and love interest for Donna Moss in a three-episode arc. The British actor played Lucius Malfoy in "Harry Potter and the Chamber of Secrets."
3.29.04 - TV Guide Online reports that starting April 21st, Mary McCormack, last seen in USA Network's druggie drama Traffic, will appear in at least four episodes of The West Wing as the President's Deputy National Security Advisor.
3.19.04 - From the March 13th issue of TV Guide: White House Liaison
When guest star Glenn Close began work on a West Wing episode to air later this month, she stunned her cast mates by revealing that she's—gasp!—human. Playing a wannabe liberal Supreme court Justice seeking confirmation, the five-time Oscar nominee "had a little bit of trouble with the [heavy dialogue], so it was fun seeing a legend stumble for the first hour or two," Richard Schiff says. "But she caught on real quick, and we ended up having a great time." Too late, Rich. Your bunny's as good as cooked.
3.8.04 - Zap2It.com: 'West Wing' Appoints Close to Bench - Five-time Oscar nominee Glenn Close will don a judge's robes for a guest appearance on "The West Wing" later this month. Close will play a potential Supreme Court nominee in the episode, scheduled for Wednesday, March 24....
3.2.04 - TV Guide Online reports that Rob Lowe isn't letting that whole Lyon's Den debacle sour him on TV. CBS has tapped the former West Winger to headline Dr. Vegas, an hour-long drama pilot that centers on the in-house physician at a Las Vegas casino.
3.2.04 - Five-time Oscar nominee Glenn Close will guest-star on NBC's The West Wing later this month playing a potential Supreme Court justice. "A conservative judge just died, so it's the business of trying to get her nominated and the confirmation drama around it," costar John Spencer explains to TV Guide Online. "The Senate we're dealing with is a Republican majority, as it is in the real world." For more on Close's WW gig, pick up next week's issue of TV Guide magazine, on sale March 8.
3.1.04 - Senators Hillary Rodham Clinton and Rep. John McHugh have written a letter to Deputy White House Chief of Staff Josh Lyman. According to the AP, the letter is in opposition to a scene that aired this past Wednesday night when an aide talked about the potential closing of Fort Drum, a real life military base. The Clinton/McHugh letter asks Lyman not to allow "... such a recommendation doesn't make it into another West Wing scene. It is important that all White House advisors have the most current information to respond to such flawed proposals." The letter went on to thank Lyman for his efforts in trying to save Social Security, and offered to meet to discuss the military base issue more thoroughly.
2.18.04 - Big Bird, Elmo and Rosita will be visiting the West Wing from Sesame Street on Wednesday, March 3rd. This will mark the first time that these Muppets have guest starred on a prime time series. For more info on the episode, see the previews pages.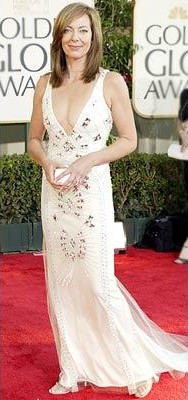 1.27.04 - From E!Online Red Carpet Pics

1.25.04 - Congratulations to Mary-Louise Parker for winning the Golden Globe for Best Supporting Actress in a Series, Miniseries or Movie. Janel Moloney said that she would pay her $1,000 if she thanked her newborn son for making her boobs look so good in her dress, so she did.

1.20.04 - The West Wing was nominated for a Writers Guild of America Award for the episode "Disaster Relief," teleplay by Alexa Junge, story by Alexa Junge & Lauren Schmidt. The awards will be handed out on February 21st.

1.19.04 - From TV Guide Online - West Wing: Life After Sorkin

Last spring, The West Wing's quirky creator, Aaron Sorkin, ended his four-year run as the drama's head writer. Fellow exec producer/director Tommy Schlamme also took a powder. That left exec producer John Wells in charge, and the cast worried about the show's future. Flash-forward now to 2004. How's life after Aaron? Last week, the residents of his fictional White House mulled it over at the Television Critics Association press tour in Hollywood.

"I can only speak for myself," said Bradley Whitford, who plays Josh Lyman, the deputy chief of staff. "It was a hugely emotional and difficult thing to see Aaron and Tommy go away. It was bewildering and disorienting.

"I always say, being on a one-hour drama is like being in an acting cult," he added, laughing. "It's like David Koresh left!"

After Sorkin's resignation, what did the cast think? "All of us really wondered, 'Does the idea [of the show] hold?'" Whitford admits. "I think I do speak for the cast that there was a tremendous sense of relief, very early on this [season], that the idea does hold, the characters hold, and the quality of the scripts was going to be high, and that these were going to continue to be interesting stories to act out.

"That's a testament to the talent of the writing staff, and it's a testament to Tommy and Aaron's vision, which I think was very strong and audacious."

"The big surprise is that Aaron stayed as long as he did," says John Spencer, who plays chief of staff Leo McGarry. "I had a real member of the West Wing say to me, 'You guys are getting very overblown about Rob [Lowe] and Aaron leaving. You know, in the real West Wing, we lose people every four or five months.' It kind of put things in perspective."

1.15.04 - The West Wing has received four Screen Actors Guild Award nominations: one for Male Actor in a Drama Series (Martin Sheen), two for Female Actor in a Drama Series (Stockard Channing and Allison Janney), and one for Ensemble of a Drama Series. The SAG Awards will air on TNT Sunday, February 22nd.

1.14.04 - Christopher Misiano has received a nomination from the Directors Guild of America for directing the episode "25."

1.6.04 - The West Wing has been nominated by The Producers Guild of America as one of the best dramas on TV. Winners will be announced on January 17th.

12.30.03 - Marlee Matlin has given birth to her fourth child, a baby girl named Isabelle Jane. Matlin gave birth on December 26th, and Matlin's publicist reports that the baby weighs eight pounds and has "two tiny dimples and lots of black hair."

12.24.03 - Don't miss Celebrity Poker Showdown on NBC featuring cast members of The West Wing, scheduled to air on Monday, December 29th at 10pm ET.

12.19.03 - The West Wing was nominated for a Golden Globe Award for Best Television Drama. In addition, Allison Janney received a nomination for Best Lead Actress in a Drama Series, and Mary-Louise Parker received a nomination for Best Supporting Actress in a Series, Miniseries or Movie for her role in HBO's "Angels in America." The Golden Globes will be presented on Sunday, Jan. 25 and the show will be televised live on NBC.

12.5.03 - Don't miss the article that starts on page 81 of the December 5th issue of Entertainment Weekly, entitled "The Mild, Mild 'West': A wonky, watered-down West Wing flounders under a new administration."

12.3.03 - Martin Sheen has been nominated for a People's Choice Award for Favorite Male Television Performer. The People's Choice Awards will air live from the Pasadena Civic Auditorium on CBS on January 11th.

11.20.03 - An excerpt from a recent TV Guide Online interview with Lily Tomlin:

TVGO: Do you ever wish that your West Wing character, Debby, could do more than show guests into the Oval Office?

Tomlin: Well, yeah. I'd like to be powerful, instead of having to say, "The president has a dog." Listen, I'm not going to look a gift show in the mouth. I lobbied to get this part. When I first saw West Wing, I said, "God, why didn't I get on this show?" and I sent out word. That worked for me a couple of times before, on Homicide and X-Files. Then, God love her, Mrs. Landingham died. I suggested that, if and when they hired another assistant, I could be the assistant. And a year later, I was!

11.13.03 - Zap2It.com: Cromwell Acts Presidential on 'The West Wing' - James Cromwell will bring his considerable presence to the 100th episode of "The West Wing." The Oscar and three-time Emmy nominee has signed on to appear in the 100th episode of NBC's White House drama, according to The Hollywood Reporter. He'll play a former president, the last Democrat to hold the office before Jed Bartlet (Martin Sheen)....

11.12.03 - Mary-Louise Parker and actor Billy Crudup have split, the New York Daily News reports. The break-up comes two months before Parker is due to give birth to their baby.

10.21.03 - Kristin from E!Online reports that Ben Affleck is in Vegas this weekend taping Bravo's Celebrity Poker Showdown. We'll also see plenty of West Wing folks, as star Joshua Molina is a coproducer of the show.

10.16.03 - From TV Guide Online: West Wing fans expecting an original episode of their favorite White House drama last night were mighty disappointed when they found a repeat of Law & Order: Criminal Intent instead. What gives? "With such huge baseball competition [on Fox], it didn't make sense for us to air original programming," an NBC spokesman tells TV Guide Online. "Strong repeat programming was the way to go."

10.7.03 - Zap2It.com: Perry Returning to 'The West Wing' - "Friends" star Matthew Perry will reprise his Emmy-nominated guest role on "The West Wing" next month. Perry will return to the White House drama for one episode during November sweeps, again playing Joe Quincy, a Republican lawyer who has a job in the Bartlet administration. He appeared on the show twice last season....

10.7.03 - TV Guide interviews Rob Lowe in this week's issue, and he talks about how and why he left The West Wing.

10.6.03 - Zap2It.com: TV Gal Focuses on the Positive

You know in those horror movies when the hero and the audience think the bad guy is dead? Then just when the hero believes it's safe, the villain makes his inexplicable last move. That's what it's like with Mary-Louise Parker on "The West Wing." Parker's Amy simply won't go away. She could disappear (just like Mandy did sans explanation at the end of the first season) and would anyone care?

I'm still not quite sure what Amy said last week (who can understand her?), but she'll make a move on Josh in this Wednesday's episode. Suffice to say I'm not happy about this development. But are we all about negative thoughts here at Team TV Gal? Nooooo. Of course we're not. So let's focus on what's been great about this season.

9.26.03 - From TV Guide Online: West Wing fans are giving NBC's troubled political drama a second chance. Wednesday's season premiere attracted 18.1 million viewers and improved 32 percent over last May's finale among adults 18-49.

9.24.03 - If you're a fan of The West Wing, you know you've seen several episodes where the White House staff get together for a little game of poker. That little game may now show up on Bravo, says Variety. Celebrity Poker Showdown has been okayed by NBC for six episodes, airing on Tuesday nights this winter on Bravo. Potential players include many from West Wing including Martin Sheen, Allison Janney, John Spencer, Bradley Whitford, as well as Emily Procter, Matthew Perry and David Schwimmer. The series will feature five different players in each episode and no limit - the winning player gives the pot to their favorite charity. The last episode will have the winners from each of the five previous eps playing each other in a championship game. Kevin Pollak will host.

9.24.03 - Thomas Schlamme will be executive producer of a new buddy detective drama called "Nice Guys," a pilot for which has already been ordered by CBS.

9.24.03 - E!Online Fashion Police: Democratic Party Girl - West Wing First Lady Stockard Channing definitely gets our vote in an elegant peachy high-collared shirt-style halter gown, drop earrings and a brand-new short cut. "Carolina Herrera is my fairy godmother," she says. But something else looks new. Eyes? Nose? Lips? Yes, that's it! It's a new lipstick. That's our politically correct story, and we're sticking to it.

9.23.03 - A day after The West Wing picked up its fourth consecutive best drama series Emmy, four members of the show's supporting cast — Allison Janney, Richard Schiff, Bradley Whitford and John Spencer — have quietly resolved their salary dispute with Warner Bros. TV. Although exact figures were unavailable, Variety reports the quartet had been looking to bump their salaries from $90,000 to $150,000 per episode.

9.22.03 - Zap2It.com: New 'West Wing' Chief Toes Party Line - Never mind that John Wells is one of the more respected producers working in television, a four-time Emmy nominee for his writing and has won multiple Emmys as a producer. His latest endeavor, overseeing day-to-day operations on "The West Wing" after the departure of creator Aaron Sorkin in the spring, has him feeling like "Ethel Merman's understudy in 'Gypsy....'"

9.21.03 - Congratulations to Christopher Misiano for winning an Emmy for Outstanding Directing for a Drama Series for the episode "25." And, of course, congratulations to everyone for their win for Best Drama Series.

9.19.03 - MSN: 'West Wing' Hits the Ground Running - On-screen conflict, off-screen changes for hit show....

9.18.03 - Jennifer Aniston (Friends) will auction off the gown that she wears to this Sunday's Emmys ceremony to benefit the Cure Autism Now Foundation and the Union of Concerned Scientists. Bradley Whitford and his wife, Jane Kaczmarek (Malcolm in the Middle), are spearheading the "Clothes Off Our Back" fundraiser, and more than 30 other celebs will participate, including Stockard Channing, Dulé Hill and Martin Sheen.

9.16.03 - Tommy Schlamme, along with Greg Berlanti, is putting together a new show for the WB about two teen boys called Jack & Bobby. The link of the boys' names to a couple of very famous brothers and that one of them eventually becomes POTUS, is intentional. WB has given a put pilot commitment to the Warner Bros. project, says Variety.

9.13.03 - "Alias" star Jennifer Garner and a trio of past winners lead the latest round of Emmy presenter announcements. Last year's best actor and actress in a drama series, Michael Chiklis and Allison Janney, and four-time best actor winner Dennis Franz will also give out shiny golden trophies. The Emmys will air live on FOX on Sunday, Sept. 21 at 8 p.m. ET.

9.10.03 - Zap2It.com: 'Practice,' 'West Wing' Get Ready for Change - As familiar shows undergo major changes, it can be useful to look again at the episodes that set up the changes. Usually, the previous season's finales offer the biggest clues to what's to come. Two such stories are airing again within days of each other....

9.3.03 - E!Online: Rob Lowe - TV Lawyering Is More Work Than TV Politics--That's the Point - It's the medium that brought his career back from the dead--or at least from the barely breathing. So, it came as no surprise when Rob Lowe signed on to another high-profile NBC drama after his much buzzed about departure from The West Wing. After all, now he's headlining--and he's an executive producer to boot....

8.26.03 - Old episodes of The West Wing will begin airing in weekly syndication starting September 22nd.

8.25.03 - Wow! Tommy Schlamme made it into Ted's gossip column on E!Online: Christine Lahti and Tommy Schlamme flew from L.A. to Chicago for a family vacation. United Airlines. C.L. joined her kiddos in biz class while her spouse, West Wing helmer T.S., settled into foist with his Blackberry, cell phone and Starbucks coffee in hand. Quite the Chatty Christi, C.L. gabbed to her seatmates that the Schlamme fam planned to rent a car once arriving in Chicago for the next leg of their trip.

8.21.03 - Aaron Sorkin and Thomas Schlamme will provide audio commentary on the show's upcoming first season DVD, due out on Nov. 18, Variety reports.

8.19.03 - Gary Cole has been cast as the new Vice President of the United States and will appear several times over the course of the upcoming season. His first episode will be the third of the season.

8.18.03 - From TV Guide Online: Former West Wing exec producer Aaron Sorkin has expressed interest in developing a new series that would be set behind-the-scenes of a Saturday Night Live-type sketch comedy show, the New York Daily News reports.

8.15.03 - E!Online: Arnold's New Costar: Rob Lowe - Sam Seaborn's got a new staff position. Rob Lowe, who served as deputy communications director under Martin Sheen's President Bartlet on The West Wing, will be chief celebrity wrangler for Arnold Schwarzenegger's California gubernatorial campaign, the actor's publicist confirmed to E! Friday....

8.8.03 - From TV Guide Online: Bring It On hunk Jesse Bradford is joining NBC's The West Wing as a spoiled twentysomething intern from a known political family. He's signed on for at least 10 episodes.

8.7.03 - Marlee Matlin announced on Tuesday's Late Late Show with Craig Kilborn that she and husband Kevin Grandalski are expecting their fourth child.

8.1.03 - Kristin at E!Online has some comments on Rob Lowe's new show, Lowe's current relationship with Aaron Sorkin, and the rumors of a West Wing spin-off.

7.30.03 - Zap2It.com: Lowe Sheds 'Wing' to Jump into 'Lyon's Den' - There's a line in the pilot of the new NBC series "The Lyon's Den" in which Rob Lowe's character, a Washington, D.C., lawyer, says he doesn't really like politics. If viewers take it as a reference to Lowe's former gig on "The West Wing," he won't be too upset....

7.30.03 - The season premiere of The West Wing will air on Wednesday, September 24th.

7.29.03 - From TV Guide Online: Anne Heche and West Wing star Dule Hill have joined the cast of Sexual Life, an indie feature about intertwined relationships among a group of adults. The pic -- which begins shooting next month in Los Angeles -- also stars Tom Everett Scott, Azura Skye and Ally McBeal's James LeGros.

7.28.03 - TV Guide Online: Rob Lowe Is So Over West Wing - In NBC's fall drama, The Lyon's Den, Rob Lowe plays good guy attorney Jack Turner, a senator's son who works at a shady Washington, D.C., law firm. One of Jack's first lines in the pilot — "I don't like politics" — suggests that star/executive producer Lowe is taking a crack at his ex-employer, The West Wing. Is he?...

7.28.03 - E!Online: "West Wing" Salarygate - Four West Wing staffers--Allison Janney, Richard Schiff, Bradley Whitford and John Spencer--have approached Warner Bros. and John Wells Productions and demanded significant pay hikes, reports Variety....

7.24.03 - Zap2It.com: New Scribes Occupy 'West Wing' - After years in the shadow of creator and executive producer Aaron Sorkin, the writing staff of "The West Wing" will get to stand out this season. Executive producer and showrunner John Wells has assembled a powerful team of scribes to pick up the slack for Sorkin, who was praised for his dialogue and pacing, but notorious for his lateness and need for script control.

Wells will write the first two episodes himself before settling back into a pack that includes Eli Attie, Debora Cahn, Carol Flint, Mark Goffman, Alexa Junge, Peter Noah, Lawrence O'Donnell, Paul Redford, Josh Singer and John Sacret Young....

7.24.03 - From TV Guide Online: Steven Eckholdt, who most recently starred opposite Nia Vardalos in CBS's My Big Fat Greek Life, has landed a much steadier gig: The actor is joining the cast of NBC's The West Wing as the husband of President Jed Bartlet's eldest daughter (played by X-Files alum Annabeth Gish).

7.22.03 - From TV Guide Online: The truth about President Bartlet's MIA daughter is right here: She looks like former X-Files star Annabeth Gish. The West Wing has tapped Gish for the recurring role of Bartlet's never-before-seen older daughter, according to The Hollywood Reporter. The actress will make her debut in this season's first two episodes, which were written by exec producer (and successor to Aaron Sorkin's throne) John Wells. Sources say Gish is one of several new faces Wells plans to introduce on West Wing this season.

7.17.03 - The West Wing got 17 Emmy nominations this morning, including Outstanding Art Direction for a Single-Camera Series ("20 Hours in America"), Outstanding Casting for a Drama Series, Outstanding Cinematography for a Single-Camera Series ("Holy Night"), Outstanding Directing for a Drama Series ("25"), Outstanding Single-Camera Picture Editing for a Drama Series ("25"), and Outstanding Single-Camera Sound Mixing for a Series ("25"). Aaron Sorkin was nominated for Outstanding Writing for a Drama Series for "25." Martin Sheen was nominated for Outstanding Lead Actor in a Drama Series. Allison Janney was nominated as Outstanding Lead Actress in a Drama Series. Bradley Whitford and John Spencer were both nominated as Outstanding Supporting Actor in a Drama Series. Stockard Channing was nominated as Outstanding Supporting Actress in a Drama Series. Matthew Perry and Tim Matheson were both nominated for Outstanding Guest Actor in a Drama Series. And The West Wing was nominated for Outstanding Drama Series. The Emmy Awards will be presented live on Fox from the Los Angeles Shrine Auditorium on Sunday, September 21st.

7.14.03 - At a recent WB press conference, John Amos (Fitz) was overheard saying that he was actually "looking forward" to an Aaron Sorkin-less West Wing.

7.10.03 - The West Wing comes to Bravo as of August 11, airing M-Th at 7p and 11p. Previewing the syndicated off-net strip, is a 6-hour marathon of the first 6 episodes, airing August 10 beginning at 11am.

6.2.03 - Zap2It.com: Writer-Producer Falls in 'Lyon's Den' - Former "West Wing" co-executive producer Kevin Falls will reunite with Rob Lowe on the new NBC legal drama "The Lyon's Den." Falls will co-run the show with creator Remi Aubuchon ("24") and he'll join Aubuchon, Lowe, Brad Grey and Bernie Brillstein as executive producers....

5.31.03 - Don't miss the article that exposes the real reasons behind Aaron Sorkin leaving the show. It's called "Broken Wing" and it's on page 37 of the May 31st issue of TV Guide.

5.28.03 - TV Guide gives CHEERS to Aaron Sorkin's parting gift. The final episode of NBC's West Wing under the helm of its creator was one of the series' most powerful episodes ever.

5.21.03 - Lily Tomlin has been named this year's recipient of the Mark Twain Prize for humorists.

5.13.03 - Moira Kelly's (Mandy, first season) new drama, One Tree Hill, has been picked up as a mid-season show for next season by the WB.

5.13.03 - John Amos's (Fitz) new comedy, All About the Andersons, has been picked up for the fall season by the WB, and will air on Fridays at 9:30pm ET.

5.12.03 - Rob Lowe's new show, The Lyon's Den, has been officially picked up by NBC for next season. It will air at 10pm ET on Sundays.

5.12.03 - Not that it's any surprise, but NBC announced their fall line-up today, and The West Wing will be keeping its Wednesday, 9pm time slot for next season.

5.10.03 - Zap2It.com: 'West Wing's' Whitford Talks in the Oval Office - It's late on a Thursday, and "The West Wing" star Bradley Whitford has come in on his day off to do an interview. It wasn't originally his day off, but the production schedule was pushed back and back until it became his day off. All in all, it's a typical day on the NBC drama about a Democratic president, which recently saw the departure of creator and chief scribe Aaron Sorkin and principal director Tommy Schlamme after four seasons....

5.2.03 - TV Guide Online: West Wing Creator Quits! What Now? - Talk about political upheaval. Late Thursday, West Wing's creator and exec producer Aaron Sorkin sent shockwaves through the TV industry when he announced that he would be stepping down as the show's Emmy-winning commander-in-chief. And what's more, he's taking his No. 2, exec producer/director Tommy Schlamme, with him. Although insiders speculate that Sorkin was driven out in part due to the show's declining ratings, all parties insist the split was an amicable one. That's a sentiment pretty much shared by fellow WW producer John Wells, who in this exclusive interview with TV Guide Online, sets the record straight about the surprising behind-the-scenes shake-up at NBC's fictional White House....

5.2.03 - From TV Guide Online: Aaron Sorkin, creator and exec producer of The West Wing, announced Thursday that he will be stepping down at the end of this season. "This has been the experience of any writer's dreams," Sorkin says. "I had the best job in show business for four years, and I'll never forget that." Fellow exec producer/director Tommy Schlamme will also be leaving. In a statement, NBC thanked the two for helping create "one of the finest shows to ever air on television," and added that exec producer John Wells has agreed to "assume a more active role next season."

4.29.03 - Joshua Malina will be on Celebrity Jeopardy on Friday, May 2nd.

4.23.03 - TV Guide Online: Perry Mulls West Wing Return - Does Matthew Perry have a future in politics? The Friends actor, who kicks off his two-episode stint on The West Wing this evening (9 pm/ET), admits he'd be open to another term in NBC's faux White House. "We haven't really talked about it, but I had a really great experience doing the show," he tells TV Guide Online. "So, we'll have to see...."

4.21.03 - TV Guide gives JEERS to fading from office. World events have left NBC's West Wing looking more and more irrelevant, never more so than when the political drama goes into high dudgeon over events in the fictional country of Qumar. We haven't cared less about a "nation" since Dynasty discovered Moldavia.

4.18.03 - Access Hollywood: Rob Lowe: Life After West Wing - Rob Lowe made his final appearance on NBC's political drama the West Wing on Feb. 26, but it's far from the end for the actor. He has a new movie, another TV show in the works, and a personal crusade that he's focused on. Access Hollywood's Billy Bush sat down for an exclusive interview with the star who discussed his new projects....

4.14.03 - TV Guide Online: West Wing Rocked by Chandlergate! - Matthew Perry will never forget where he was when war in Iraq broke out. "I was sitting in a replica of the Oval Office," marvels the Friends cut-up, who was taping his two-episode West Wing stint (airing April 23 and 30) at the time. "It was very surreal. Things got very quiet and tense, and it [became] difficult to work...."

4.11.03 - Taye Diggs will do a guest spot on "The West Wing" in two episodes that will air during May sweeps. For more info on his role, see the previews page.

4.8.03 - Roush Riff from TV Guide: Turns out there is life after The West Wing. But is it worth watching? The question arises as you listen to Rob Lowe unconvincingly affect a tough Noo Yawk accent as a disgraced detective seeking redemption in the mediocre psychological thriller Framed (TNT, April 13, 8 pm/ET). Sam Neill (Jurassic Park) enjoys himself as the suave and devious con artist being grilled by Lowe in preparation for trial. But wouldn't it have been more fun to watch Lowe playing the ambiguously bad guy? Seems to me I'm probably not the only one missing Sam Seaborn these days. It really was the role of a lifetime.

3.24.03 - Timothy Busfield has been cast in the NBC pilot Stuck in the Middle with You with Annie Potts. Busfield will play the father of a family desperately scrambling to stay in the middle class. The comedy is from Tim Doyle (Roseanne).

3.14.03 - Matthew Perry (Friends) will guest star on two episodes of The West Wing to air April 23 and 30. He'll play a Republican lawyer looking for a job in the White House.

3.10.03 - Stockard Channing won a SAG Award last night for her role in the TV movie "The Matthew Shepard Story." When responding to a question about a SAG press release raising the specter of a new blacklist for Hollywood types who speak out against U.S. policies, Channing said of co-star Martin Sheen: "He has every right to speak his mind, as he's been doing out loud for the past 20 years. It's not just because he plays the role of the president on this show."

3.3.03 - From TV Guide Online: NBC may have found a scapegoat for The West Wing's declining ratings: Martin Sheen. The show's commander in chief told the Los Angeles Times that Peacock execs "let it be known they're very uncomfortable" with his rather public opposition to a U.S.-led war against Iraq. A network spokeswoman, however, told The Associated Press that she knows of "no concern among top management at NBC regarding Mr. Sheen's stand against the war or fear that it could impact the show."

2.28.03 - Zap2It.com: 'Law & Order' Actor Supports President Bush, Not Bartlett - All boundaries between real life and televised politics have ceased to matter. Following TV president Martin Sheen's ad questioning the war plans of real-life president, George W. Bush, former real-life senator Fred Thompson, currently a TV district attorney, is fighting back. Thompson will appear in a TV ad supporting the Bush Administration's designs for Iraq, clearly at the expense of the Bartlet administration's plan....

2.25.03 - TNT has cast Rob Lowe in a remake of Stephen King's Salem's Lot. Lowe will play a journalist who heads back to his small Maine hometown, only to find it overrun with vampires. TNT's budget for the four-hour movie is reportedly $15 million.

2.7.03 - Paris Barclay and Alex Graves were both nominated for Directors Guild of America TV awards for Drama Series, Barclay for the 4th season episode Debate Camp, and Graves for the 3rd season finale Posse Comitatus. The awards will be presented on Saturday, March 1st.

2.5.03 - TV Guide Online: TARGET="new">Sports Night Star Replaces Rob Lowe - For Hollywood actors, getting cast often does depend on who you know. With Rob Lowe's Sam Seaborn exiting The West Wing on Feb. 26, the show's faux White House needed a new deputy communications director. Hence, creator Aaron Sorkin tapped Joshua Malina, an alum of his old ABC comedy, Sports Night, to play Will Bailey. Talk about connections!...

2.3.03 - The West Wing has elected to dismiss Rob Lowe sooner than first thought, TV Guide Online has learned. The actor's final appearance on NBC's White House drama -- initially slated for March -- will now air during the Feb. 26 episode, a show rep confirms. In a recent interview with TV Guide Online, exec producer Aaron Sorkin said he was holding off on writing Lowe's swan song because, "I'm still keeping my fingers crossed that [he'll stay]. I say it out loud every day: 'Please, I want Rob to stay on the show!'" There seems little chance of that at this point. Lowe recently inked a deal with the Peacock network to headline a new legal drama next season. What's more, Lowe's WW alter ego, Sam Seaborn, recently left his post as communications director to run for Congress in California. Translation: He's a goner, folks.

2.2.03 - Zap2It.com: Sheen for Dean in '04 - It's not just that Sheen plays a former New England Democrat governor who is married to a physician and is now president of the United States on NBC's "The West Wing" that has him backing Howard Dean, the former governor of Vermont who is married to a doctor and hoping to be the Democrats choice to run against President Bush in 2004. Following Dean's visit to "The West Wing" set last week, a spokesperson for Sheen told the AP the the actor feels that Dean is "the best possible hope for the Democrats, because he's not afraid to lose."

1.29.03 - NBC apparently isn't holding a grudge against Rob Lowe for quitting The West Wing. The network has tapped the ex-Brat Packer to star in and produce a new legal drama pilot titled Lyon's Den, Variety reports. He'd play an "idealistic attorney trying to make his mark on the world while struggling to escape the shadow of his powerful father, a state senator."

1.28.03 - Martin Sheen received a nomination for a Screen Actors Guild award for Outstanding Performance by a Male Actor in a Drama Series, and both Allison Janney and Lily Tomlin received nominations for Outstanding Performance by a Female Actor in a Drama Series. The cast of The West Wing was nominated for Outstanding Performance by an Ensemble in a Drama Series. Stockard Channing also received a nomination for Outstanding Performance by a Female Actor in a Television Movie or Miniseries for her role in "The Matthew Shepard Story." The Screen Actors Guild Awards will be presented on Sunday, March 9, 2003 from the Los Angeles Shrine Exposition Center and televised live nationally on TNT (Turner Network Television) at 8 PM (ET/PT), 7 PM (Central), 6 PM (Mountain).

1.21.03 - In talking about funny things said and done during the Golden Globe Awards, TV Guide Online mentions that, on E!, Bradley Whitford, one of eight (!) nominees for Best Supporting Actor (Series/Miniseries/Made For TV Movie), joked, "I'm in that strange category that has all the people from comedies and dramas... and ice skaters and magicians."

1.19.03 - Zap2It.com: Kaczmarek Spends Sunday with Both Husbands - When she attends the Golden Globe Awards ceremony on Sunday (Jan. 19) night, "Malcolm in the Middle" mom Jane Kaczmarek will be kept busy table hopping. Kaczmarek's real-life husband of 10 years, "The West Wing's' Bradley Whitford, and her TV spouse, Bryan Cranston, are both nominated in the bizarre catch-all category of best supporting role in a series, mini-series or made-for-TV movie....

1.17.03 - NBC has renewed The West Wing for two more years, with an option for a third, according to the Hollywood Reporter. The Warner Bros. price tag is estimated between $5 and $7 million per ep.

1.17.03 - Zap2It.com: 'West Wing' Gets Two More Years in Office - There's a pretty good chance TV viewers will get to see all of President Bartlet's second term in "The West Wing." NBC Entertainment president Jeff Zucker told reporters Friday (Jan. 17) at the TV Critics Association press tour that the network has picked up the Emmy-winning drama for two more seasons, and has an option for a third additional year. The timeline of the show, in its fourth season, has Bartlet (Martin Sheen) in the first year of his second term....

1.16.03 - From the January 18th issue of TV Guide: Meet the new Rob Lowe. Or at least, the guy who's going to fill his shoes on NBC's West Wing. "It appears that way," confesses Joshua Malina, who plays Will Bailey, a speechwriter brought in to help Toby Ziegler. "It literally is a dream job." But just to make sure it didn't go to his head, West Wing creator Aaron Sorkin escorted Malina to a spot on the soundstage where the show's Emmys are set up on a pedestal. "He said, 'Just so you know, we won the Emmy for best drama the three years you weren't on the show.'" To be fair, the two go way back, having worked together on Sports Night.

1.14.03 - Still working on a renewal deal for West Wing, NBC and Warner Bros. are expected to come to terms in the next several days, ultimately to the tune of $4-$5 million per episode, about twice the current rate. The length of the deal is still under discussion.

1.14.03 - From TV Guide Online: Reality may have taken a bite out of The West Wing's ratings this season, but NBC still has faith in the Emmy-winning White House drama. The Peacock network is thisclose to securing a three-year deal to renew the show, a pact that would keep Martin Sheen in office until 2006. According to USA Today, the new deal would call for NBC to shell out about $6 million an episode -- triple what the Peacock pays now. However, Variety estimates the new fee to be $4 million to $5 million an episode.

1.13.03 - Allison Janney will be on The View on Friday, January 17th.

1.10.03 - A burst halogen light caused a fire on The West Wing set Thursday, forcing the show's Warner Bros. soundstage to be evacuated. No injuries were reported, but production was halted for the day and there's about $100,000 in smoke and water damage from sprinklers going off. No word which castmembers were on set.

1.3.03 - E!Online: The (Rob) Lowe Down on Pee-wee - Looks like Rob Lowe's past is messing with Paul Reubens' future. Lowe's infamous homemade video featuring the future West Winger engaged in the body politic with two females, one of whom was underage, is one of the pieces of evidence in the child-porn case against Reubens....

12.19.02 - The West Wing has received five Golden Globe Award nominations: Best Television Series - Drama, Best Performance by an Actress in a Television Series - Drama (for Allison Janney), Best Performance by an Actor in a Television Series - Drama (for Martin Sheen), and Best Performance by an Actor in a Supporting Role in a Series, Mini-Series or Motion Picture Made for Television (for both Martin Sheen John Spencer and Bradley Whitford). The 59th Annual Golden Globe Awards will be aired live on NBC on Sunday, January 20th.

12.18.02 - Zap2It.com: Sorkin Earns Dismissal of Drug Charges - Aaron Sorkin is clean, and so is his record. A Los Angeles court on Wednesday (Dec. 18) dismissed drug-possession charges against the creator of "The West Wing," signaling that Sorkin had successfully completed 18 months of counseling and periodic drug tests....

11.27.02 - There have been no talks yet with West Wing regarding renewals for next season.

11.26.02 - On November 25, Jane Kaczmarek (Malcolm in the Middle gave birth to Mary Louisa, her third child with husband Bradley Whitford.

11.14.02 - TV Guide Online: West Wing Star on Battling Bachelor - Fuggedabout the high-brow Oval Office drama on The West Wing. America clearly prefers the low-brow hot tub hook-ups on The Bachelor! Last week, ABC's matchmaking series was the top-rated reality show among young viewersb beating Survivor: Thailand for the first time. Aaron and his marriage-minded mistresses also edged out President Bartlet in the Nielsens, scoring 16.3 million viewers to WW's 16.2 mil....

10.30.02 - Former Wonder Years actress Danica McKellar will join the cast of The West Wing for three episodes, beginning tonight. She plays the role of Elsie Snuffin, speechwriter for a recently deceased Congressman.

10.29.02 - From TV Guide Online: West Wing creator Aaron Sorkin is taking some sassy potshots at departing cast member Rob Lowe. In the current issue of Newsweek, Sorkin jokes that there's a lot of pressure writing for an actor of Lowe's caliber. "You're looking at the spectre of [past Lowe films] Atomic Train and Oxford Blues and St. Elmo's Fire," he says, "and you try to live up to those standards, and sometimes you can't." Ouch! So far, Lowe's camp isn't commenting.

10.22.02 - Christian Slater is joining The West Wing for a multi-episode arc playing a submarine commander, Access Hollywood reports.

10.11.02 - From TV Guide Online: CRISIS IN THE OVAL OFFICE: Maybe it's time Heather Locklear paid The West Wing a visit. Despite its third-consecutive Emmy victory, NBC's White House saga is purging viewers faster than The Drew Carey Show. (Compared to this time last year, West Wing is off 33 percent among adults 18-49.) The latest sign that President Bartlett's approval rating is dropping: Wednesday's episode was trumped in the ratings by a program on – yikes! – ABC! Yes, among adults 18-49, ABC's match-making reality series The Bachelor beat WW by 31 percent. (WW prevailed among total viewers 15.7 million to 12.8 million, but still.) Meanwhile, TV insiders are speculating that the show's rapid decline will likely have an impact on upcoming negotiations between Warner Bros. and NBC to increase the drama's license fee. "Warner Bros. is not going to get as much money as they originally thought," one high-level agent tells Variety. "Whoever bids really has to decide how much future they think the show has."

10.1.02 - Zap2It.com: 'West Wing' Gets Ready to Rock - The band Barenaked Ladies and singer Aimee Mann will be performing on "The West Wing" in order to promote Rock the Vote. In the episode entitled "College Kids," press secretary C.J. Cregg (Allison Janney) will speak to a crowd of young people at House of Blues about the importance of youth empowerment and civic and political engagement during a fundraiser for the non-profit organization....

9.23.02 - At the Emmys last night, John Spencer won the award for Outstanding Supporting Actor in a drama series and Stockard Channing won the award for Outstanding Supporting Actress in a drama series. Stockard Channing also won an Emmy for her Supporting Actress role in "The Matthew Sheepard Story." Allison Janney won Outstanding Lead Actress in a drama series for the third time in a row. Oh yeah, and the show won Outstanding Drama Series.

9.23.02 - TV Guide Online "Caught in the Act" - Emmy Awards 2002 - Don't miss Stockard Channing kissing her Emmy. Click on small image for full picture.

9.16.02 - From TV Guide Online: The West Wing is about to get a lot more expensive for NBC. According to The Hollywood Reporter, Warner Bros. Television may ask the network to fork over $10 million per WW episode more than six times the current $1.6 million asking price. The increase would go into effect next season.

9.9.02 - TV Guide Online: West Winger Recalls 9-11 Controversy - After Sept. 11, Aaron Sorkin felt moved to postpone The West Wing's third season premiere in favor of "Isaac and Ishmael," a stand-alone episode about a similar terrorist crisis. The show's creator still is taking heat for what critics bashed as a "preachy, pedantic" tribute. Nearly one year later, he responds with a sort of mea culpa....

9.6.02 - Zap2It.com: Sorkin: 'Door Is Always Open' for Lowe on 'West Wing' - The staff of "The West Wing" will be saying goodbye to Sam Seaborn next spring, but at least they won't be attending his funeral. Series creator Aaron Sorkin will not be killing off Lowe's character on the NBC drama....

9.6.02 - TV Guide Online: West Wing Creator on Rob Lowe's Exit - Why is Rob Lowe really leaving his role as The West Wing's Sam Seaborn in March? "It's entirely a money situation, I assure you," says creator Aaron Sorkin....

9.5.02 - Martin Sheen will be a presenter at the 54th annual Primetime Emmy Awards airing on NBC at 8pm ET on September 22nd.

8.27.02 - Don't miss the one-page article on Rob Lowe's departure in the August 31st issue of TV Guide.

8.15.02 - TV Guide Online: Martin Sheen on Emmy's "Painful" Toll - If Emmy nominee Martin Sheen had his druthers, he'd skip TV's top awardsfest this year. It's not that The West Wing star doesn't appreciate his acting nod, but for him, it's bittersweet....

8.7.02 - Read all about Rob Lowe's departure from The West Wing on page 8 of the August 9th issue of Entertainment Weekly.

7.26.02 - TV Guide Online: Rob Lowe: Replaceable You - Oh, Rob Lowe what are you thinking? It hasn't been that long since a certain X-rated videotape nearly eclipsed all the hard work you did in 1980s flicks like About Last Night... and Class, and now you're leaving your comeback role of the White House's deputy communications director Sam Seaborn on The West Wing....

7.25.02 - Rob Lowe is speaking out to TV Guide about his decision to quit The West Wing next season. Basically, the former Brat Packer says he grew tired of playing third fiddle on the Emmy-winning drama. "As much as it hurts to admit it, it has been increasingly clear, for quite a while, that there was no longer a place for Sam Seaborn on The West Wing," he said in a statement. "However, Warner Bros. has allowed me an opportunity to leave the show as I arrived... grateful for it, happy to have been on it and proud of it." Lowe will be written out in next season's 16th episode, which will likely air in March.

7.25.02 - Yahoo/Variety: 'West Wing' Lets Lowe Go - In the latest behind-the-scenes drama involving "The West Wing," Rob Lowe is quitting his role as White House deputy communications director Sam Seaborn. Barring some unforeseen twist, his character will be phased out in an episode to air next March, the result of an exit strategy that has already been agreed upon by both parties....

7.24.02 - Marlee Matlin gave birth to a baby boy, Tyler Daniel Grandalski, on Thursday. This is her third child with husband Kevin Grandalski.

7.23.02 - The West Wing will have a two-hour season premiere on Wednesday, September 25th, at 9pm ET.

7.18.02 - The West Wing was nominated for twenty-two Emmy Awards: Outstanding Drama Series, Outstanding Lead Actor in a Drama Series for Martin Sheen, Outstanding Lead Actress in a Drama Series for Allison Janney, Outstanding Supporting Actor in a Drama Series for Dulé Hill, John Spencer, Bradley Whitford, and Richard Schiff, Outstanding Supporting Actress in a Drama Series for Mary-Louise Parker, Stockard Channing and Janel Moloney, Outstanding Guest Actor in a Drama Series for Ron Silver, Tim Matheson and Mark Harmon, Outstanding Casting for a Drama Series, Outstanding Special Class Program for the Documentary Special, Outstanding Writing for a Drama Series ("Posse Comitatus"), Outstanding Directing for a Drama Series ("The Indians In the Lobby" and "Posse Comitatus"), Outstanding Single-Camera Picture Editing for a Series ("Bartlet for America"), Outstanding Art Direction for a Single-Camera Series ("Manchester, Part 2"), and Outstanding Cinematography for a Single-Camera Series ("Bartlet for America" and "100,000 Airplanes"). The Emmy Awards will air live on NBC on September 22nd, 2002.

7.17.02 - TV Guide Online: West Wing VP Disses Cable Talkers - Tim Matheson is a brave actor. It takes chutzpah to show your face after playing the werewolf sheriff on CBS's Wolf Lake! Hey, at least he's still recurring as The West Wing's Vice President John Hoynes. Come fall, expect more drama between him and prez Martin Sheen as their re-election campaign heats up....

6.27.02 - NBC has recruited Rob Lowe to host Macy's 4th of July Fireworks Spectacular (airing 9-10:30 pm/ET on Independence Day).

6.25.02 - Emmy winners Allison Janney and Eric McCormack (Will & Grace) will be announcing the Primetime Emmy nominations on Thursday, July 18th, at 5:30am PT at the Academy of Television Arts and Sciences in North Hollywood. The Awards presentation will air on Sunday, September 22nd on NBC.

6.14.02 - Stockard Channing has elected to remain The West Wing's First Lady for another year, signing on for 12 of next season's 22 episodes. She also has joined the cast of Woody Allen's latest, untitled film.

6.5.02 - Martin Sheen was nominated for a Television Critics Association award for Individual Achievement in Drama. The TCA awards will be handed out Saturday, July 20, during the association's summer press tour in Pasadena, California.

5.30.02 - Bradley Whitford and his wife Jane Kaczmarek (Malcolm in the Middle) expect their third child this fall.

5.28.02 - Reader's Digest: Martin Sheen: The Uncut Interview - When the President is late, nothing much happens. Martin Sheen, who plays President Josiah Bartlet on The West Wing, is snarled in Los Angeles traffic, which means his colleagues -- actors Rob Lowe and Allison Janney, and executive producer Aaron Sorkin among them -- can only sit and wait. The instant Sheen arrives, though, the vibe of the whole cast shifts. The task at hand is only the read-through of a new script, but it's as if the real Commander in Chief just stepped into the room. The President is here. Let's get going....

5.26.02 - From The Hartford Courant: Martin Sheen and his wife have listed a Santa Monica, Calif. cottage they have used as a pied-a-terre. The asking price is just under $2.2 million. The house, which Janet Sheen renovated and redecorated, has two bedrooms, a den, a loft and 2 1/2 bathrooms in more than 1,400 square feet. Built in 1950, the house has been owned by the Sheens for six years. It was described as a "hippie-type cottage" when they bought it. The hillside hideaway, which has ocean and mountain views, has been used by the Sheens as a stopping-off place en route to their longtime home in Malibu. The cottage was midway if they wanted to go to an event in town, but now that Martin Sheen is doing the series, he is generally too busy to stay in Santa Monica, and his wife has finished the refurbishing and is ready for a new project.

5.21.02 - Zap2It.com: 'West Wing' Gets in Last-Minute Location Shots - If the scenes at a Broadway theater on the season finale of "The West Wing" look authentic, it's because they are....

5.14.02 - Mary Louise Parker and Lily Tomlin will join the cast next season.

5.13.02 - The West Wing will continue to air on Wednesdays at 9pm ET next season.

5.10.02 - From Philly.com: Brad's ad - Ed Rendell has a backer in the White House.

Translation: Bradley Whitford, who plays presidential adviser Josh Lyman on NBC's The West Wing, is stumping for ex-Mayor Rendell in the Democratic primary for Pennsylvania governor. Whitford, a Madison, Wis., native who was raised in Wayne and attended the Haverford School, appears in a 30-second spot that debuted yesterday. (His mother and sister live in the area.) An active campaigner for Democrat Al Gore in the 2000 presidential race, Whitford "happens to know and support Ed," says Rendell rep Dan Fee.

Ditto for homegirl Melissa Fitzgerald, West Wing's assistant to press secretary C. J. Cregg (Allison Janney). Rendell is a friend of her parents', Fee says, and he performed her wedding ceremony. The spot, pitched by the Rendell camp, was filmed last week in L.A. It will air only in the Philadelphia area, Fee says. It was on KYW (CBS) yesterday, but Fee wouldn't say where or when it would run in the future. "I'm Brad Whitford," the actor says in the spot. "In real life, I was raised in Pennsylvania. My mom and sister still live in Philadelphia. So when I ask you to vote for Ed Rendell, I do so with firsthand experience about the job he did." Uh, firsthand? Whitford lived in Wayne from age 3 to 14. He's 42.

5.10.02 - Aaron Sorkin is scheduled to appear on The Today Show on May 22nd to talk about the season finale.

5.9.02 - Emily Proctor's character on the CSI spin-off in Miami will be introduced on tonight's episode of CSI on CBS.

5.8.02 - TV Guide Online: Mark Harmon's West Wing Love! - Last week on NBC's The West Wing, gutsy press-secretary C.J. (Allison Janney) criticized Saudi Arabian extremists for letting schoolgirls die needlessly. As the provocative plot had it, students weren't freed from a burning school building because their attire wasn't modest enough to be seen in public! Enter guest star Mark Harmon as C.J.'s Secret Service bodyguard....

5.8.02 - James Brolin will guest star. For more information on his role, see the previews page.

5.6.02 - Evan Rachel Wood (Once and Again) will be a recurring character starting this month and could possibly return next season as well. For more info on her role, see the previews page.

5.3.02 - Zap2It.com: Harmon Didn't Hesitate to Join 'West Wing' - It didn't take Mark Harmon long to accept the season-ending, four-episode guest role he has on "The West Wing." "I got a scene faxed to me by my agent late on a Wednesday afternoon, and Thursday morning I was working," Harmon says....

5.2.02 - Allison Janney will be on The Daily Show with Jon Stewart on Wednesday, May 15th.

4.24.02 - TV Guide Online: Why Bush Refused West Wing Invite - Tonight's documentary-style episode of The West Wing features interviews with real-life White House insiders. George Bush – the 41st prez and daddy of Dubya – isn't one of them. "George Bush Sr. said no to us," reveals exec producer Thomas Schlamme....

4.24.02 - From the latest People magazine, an article about the girls who played "Little Orphan Annie."

Allison Smith (January '80 to September '82)
Legwork helped turn Smith into Annie IV. "I didn't drive," recalls her mother, Jo-Ann, "so for her to audition, we had to walk one mile to the bus." After seven trips the Waldwick, N.J., 10-year- old got the part, stepping onstage in January 1980. She left in 1982 to begin seventh grade, not knowing the musical would close four months later. "That was a bummer," says Smith, 32. "I would've loved to have finished it off." Instead she enjoyed a successful postshow career, with a five-year run as Jane Curtin's daughter Jennie on the sitcom Kate & Allie.

After spending two years at New York University, Smith left for Los Angeles, where she built up a resume, she says, of "little parts in big movies" and roles in short-lived TV shows like Wasteland. With a recent recurring stint on The West Wing (as Mallory, John Spencer's daughter -- and Rob Lowe's potential love interest) and marriage last June to attorney Randy Grimmett, 33, a vice president of ASCAP, Smith says she has grand ambitions for tomorrow: "My five- year dream," she says, "is to be doing a musical and to have a baby on my hip."

4.23.02 - CNN.com: 'West Wing' talks to the real presidents - How real is "The West Wing"? And how much closer to real-world politics will it dare to venture? The first question may be answered, in part, by an episode Wednesday that mixes scenes from three seasons of the NBC White House drama with recollections of past and present occupants....

4.17.02 - Martin Sheen has been nominated for an ALMA Award as Outstanding Actor in a Television Series. The ALMA Awards are presented by the National Council of La Raza and honors achievements by Latinos in the entertainment industry. The awards ceremony will air on ABC on Saturday, June 1st at 8pm Easter and Pacific.

4.12.02 - Mark Harmon will guest star in four episodes of The West Wing this spring. For more information on his character, see the previews page.

4.8.02 - The May issue of Architectural Digest has an article about the sets of The West Wing and an article on Martin Sheen.

4.7.02 - Washington Post: 'West Wing' View - The creator of "The West Wing" likes it when the show has impact, but that isn't what Aaron Sorkin has in mind. He knows he is providing a happy hour for drooping Democrats, but all he really wants to do is entertain....

3.29.02 - BayArea.com: Nevada nuclear dump foes welcome West Wing episode about waste mishap

3.29.02 - The West Wing episode "Bartlet for America" has received a nomination for a PRISM Award. PRISM Awards honor the accurate portrayal of drug and alcohol use and addiction in the entertainment industry. The awards are presented by the Entertainment Industry Council, a nonprofit group that encourages social responsibility in the entertainment world, along with the Robert Wood Johnson Foundation and the National Institute on Drug Abuse. The ceremony will take place Thursday, May 9, and be taped for a syndicated broadcast by Tribune Entertainment.

3.20.02 - From the March 23rd issue of TV Guide: It's a rare person who can reder anyone on The West Wing almost speechless. For that alone, the formidably sexy and intelligent Mary-Louise Parker, as feminist activist Amy Gardner, is the best thing to happen to the hyperverbal show all season. "I'm bewitched. I'm ensorcelled," declares a thunderstruck Josh shortly after on eenoucter, in which amy teasingly tosses a water balloon at him. His puppylike infatuation with this playful yet pragmatic A-lister is completely understandable, given Parker's inscrutably bemused reactions. Forceful without being strident, Amy is a catch, and Josh knows he's lucky to have her. We feel the same way. –Matt Roush

3.16.02 - Don't miss the great article on Stockard Channing on page 42 of the March 16th issue of TV Guide.

3.12.02 - TV Guide Online: West Wing Star's Soapy Past - Thanks to her plum gig as press secretary C.J. Cregg on The West Wing, Allison Janney is living it up! A regular face on the Hollywood awards-show circuit, the two-time Emmy winner for best supporting actress in a TV drama just nabbed another trophy at Sunday's SAG Awards.

3.11.02 - Laura Dern will guest star in the March 27th episode. For more information on her role, see the previews page.

3.11.02 - Mark Feuerstein (Cliff Calley) has been cast in the new NBC pilot, Good Morning Miami, about a morning radio talk show producer.

3.10.02 - Martin Sheen and Allison Janney both won again at the 8th Annual Screen Actors Guild Awards tonight, and the whole cast of The West Wing also won Best Ensemble.

3.9.02 - Allison Janney is named one of TV's MVP supporting players in the March 9th issue of TV Guide. Janney has the role of her career as the astringent, multitasking White House dynamo–and two Emmys to prove it. Janney revealed C.J.'s vulnerability when she almost resigned after botching a press conference. "There's that sense on the set: 'Ooh, I have scenes with Allison toady,'" says Wing exec producer Thomas Schlamme. In October, Janney plays Meryl Streep's lover in "The Hours."

3.9.02 - Aaron Sorkin is named one of TV's MVP writers in the March 9th issue of TV Guide. Churning out smart and snappy scripts, the Emmy award-winning writer has his finger on the pulse of current affairs–dramatizing events even as they unfold in the real White House. "Aaron assumes his audience is as smart as he is and as funny as he is," says Bradley Whitford, who plays deputy chief of staff Josh Lyman. "He wants them to laugh, to think. It's not a civic-minded impulse. It's an entertainment impulse."

3.8.02 - Don't miss the great article on Martin Sheen and Charlie Sheen starting on page 16 of the March 2nd issue of TV Guide.

3.5.02 - Aaron Sorkin is defending his interview in the New Yorker in which he criticizes the news coverage of the Bush administration, according to The Hollywood Reporter. While acknowledging the President's wartime leadership in the article, Sorkin said the media is "waving pompoms" in lieu of providing unbiased news coverage. "I suppose it's worth pointing out again, because these are sensitive times, like everybody else I support the president 100 percent in the war effort," said Sorkin, who won an award for best drama at the Producers Guild of America Sunday night. "But our thoughts shouldn't have to have an 80 percent approval rating to be voiced."

3.5.02 - Anna Deavere Smith (Nat'l Sec. Advisor Nancy McNally) has been cast in the new show, Presidio Med, which has been given a 13 episode order by CBS.

2.27.02 - Stockard Channing, along with Kristin Davis (Sex and the City) and Lauren Graham (Gilmore Girls), will be a presenter at the 8th Annual Screen Actors Guild Awards. The awards will be telecast by TNT from the Los Angeles Shrine Exposition Center on Sunday, March 10th, at 8pm ET.

2.27.02 - From TV Guide Online: Aaron Sorkin -- who complained that NBC Nightly News anchor Tom Brokaw's Jan. 23 special, The Bush White House: Inside the Real West Wing, was a "Valentine" to President George W. Bush -- has apologized to Brokaw. In the current New Yorker, Sorkin groused that, "The White House pumped up the president's schedule to show him being much busier and more engaged than he is and Tom Brokaw let it happen." Well, after learning that Brokaw prefaced the show by saying Dubya's schedule was loaded up for the occasion, Sorkin spoke to Brokaw and said he was sorry.

2.26.02 - From TV Guide Online: Aaron Sorkin says the news media has gone too far in its glorification of President Bush, and even accuses his own network, NBC, of being one of the prime offenders. Sorkin cites the Peacock's recent Tom Brokaw-hosted special, The Bush White House: Inside the Real West Wing, as an example. "The White House pumped up the president's schedule to show him being much busier and more engaged than he is and Tom Brokaw let it happen," Sorkin told The New Yorker. "The show was a Valentine to Bush... The media is waving pom-poms and the entire public is being polite."

2.25.02 - Emily Procter (Ainsley Hayes) has been cast in the new CSI spinoff on CBS.

2.13.02 - Zap2It.com: Aaron Sorkin, Dave Matthews and Destiny's Child to Receive Rock the Vote Awards

2.13.02 - Allison Janney will guest star in an episode of Frasier in March as a woman set up on a blind date with Frasier. Janney will play a flaky artist whose meeting with Frasier goes terribly awry. Look for Janney to appear on Tuesday, March 5th.

2.7.02 - Ted Casablanca at E!Online reports that Marlee Matlin was spotted dining on some tasty sushi treats at Katsu-Ya, with her trusty interpreter by her side. Studio City. Garbed in comfy Adidas sweats, slip-on sneaks and a brown corduroy jacket decorated with the West Wing logo, the petite former brunette (she's gone blonde, don't you know) ordered her usual fare: a baked crab roll with soy paper. A regular at the joint, M.M. was friendly with the staff, who happily prepared her order extra spicy--per request.

2.5.02 - Don't miss Revealed with Jules Asner featuring Rob Lowe, airing on E! on Wednesday, February 6th at 10pm and repeating at various times during the rest of the week (check your local listings).

2.4.02 - Zap2It.com: NBC Pulls 'West Wing' Promo - Once again "The West Wing" will prove what a smart show it is next Wednesday, Feb. 6, with an episode that features a journalist who is kidnapped by rebels while on assignment in Congo -- a plot that eerily resembles last week's headlines about abducted Wall Street Journal correspondent Daniel Pearl....

1.30.02 - TV Guide Online: West Wing Star's Career Schiff - Fans of West Wing thesp Richard Schiff are in for a rude awakening...

1.29.02 - Martin Sheen was nominated for a SAG Award for Outstanding Performance by a Male Actor in a Drama Series and Stockard Channing and Allison Janney were nominated for Outstanding Performance by a Female Actor in a Drama Series. In addition, the whole cast was nominated for Outstanding Performance by an Ensemble in a Drama Series. The Screen Actors Guild will honor its own at its 8th Annual Awards ceremonies on Sunday, March 10, 2002 at the Los Angeles Shrine Exposition Center, televised nationally on TNT at 8pm ET/PT, 7 pm Central, 6pm MT.

1.23.02 - Martin Sheen will appear in the March 5th episode of Spin City with his son, Charlie, on ABC.

1.15.02 - The West Wing has received two Writers Guild of America award nominations for the episodes "Somebody's Going to Emergency, Somebody's Going to Jail" written by Paul Redford and Aaron Sorkin, and "Two Cathedrals" written by Aaron Sorkin.

12.21.01 - In Entertainment Weekly's special year-end double issue, The West Wing is named the #9 show of the year by Ken Tucker. Yes, its debate tag-team structure has become predictable, but isn't predictability one of the reasons we watch a TV show every week? The fact remains that Aaron Sorkin writes irresistible small talk (all those zingers you and I wish we'd had the presence of mind to say to a needling coworker) and big talk (all those goose-pimpling speeches Martin Sheen's President delivers so stirringly). Give Sorkin credit, too, for handing Stockard Channing First Lady subplots worthy of her seasoned wiles and dour wit, as well as expanding his cast beyond the smarty-pants staff regulars: Oliver Platt's White house counsel and Ron Silver's pollster, by making no effort to be sympathetic, became indispensable, and the recent introduction of Mary-Louise Parker as a possible love interest for Bradley Whitford's Josh (finally, romance outside of the office!) was inspired casting.

12.20.01 - The West Wing received four Golden Globe nominations. It was nominated for Best Drama Series, and Martin Sheen, Allison Janney and Bradley Whitford were all nominated for acting awards. The Golden Globes will be broadcast on NBC at 8pm ET Sunday, January 20th.

12.18.01 - The West Wing has been nominated for an American Film Institute Award for AFI Drama Series of the Year and Allison Janney has received a nomination for AFI Female Actor of the Year in a series. The awards ceremony will be broadcast on CBS on Saturday, January 5th, at 8pm ET.

12.14.01 - On Super Bowl Sunday (February 3rd) Bradley Whitford will guest star on his wife's Fox comedy, Malcolm in the Middle, as Susan Sarandon's husband. An episode highlight, which Malcolm creator and executive producer Linwood Boomer says was "the starting point of the story," has Kaczmarek and Sarandon in a mud fight. Boomer says, "We wanted to see if we could get a glamorous movie star to mud-wrestle with Jane Kaczmarek."

12.11.01 - West Wing Emmy winner Allison Janney -- who will play Meryl Streep's lover in Stephen Daldry's upcoming big-screen drama The Hours (based on the Pulitzer Prize-winning novel) -- tells TV Guide Online that she will not be sharing any love scenes with the Oscar winner. Laughs Janney: "No, [our characters] have been in the relationship for nine years. You know what I'm saying?"

12.11.01 - Dulé Hill has been nominated for an NAACP Image award for Outstanding Supporting Actor in a Drama Series. The awards will be presented on February 23rd in Los Angeles.

12.7.01 - TV Guide Online: Will The West Wing Tackle AIDS? - Might the series ever address the impact of AIDS on African-Americans? "That would be a great storyline," said Dulé Hill....

12.6.01 - TV Guide Online: Stockard Channing Loses It!

11.29.01 - Gossip maven Ted Casablanca of E!Online reports that Rob Lowe was spotted enjoying the delish dim sum (and then some) at Yank Sing in San Francisco. Looking slim, trim and ready for a spin, the West Wing randy candy talked at length on his cell with a stern stare on his pristine puss.

11.28.01 - The West Wing has been nominated for a People's Choice Award for Favorite Television Dramatic Series. The 28th Annual People's Choice Awards ceremony will be broadcast on CBS on Sunday, January 13th, and hosted by Kevin James (The King of Queens).

11.15.01 - TV Guide Online "Caught in the Act" - Magically delicious actor Rob Lowe brings his lucky charms wife Sheryl Berkoff and his two sons to the Los Angeles premiere of Harry Potter and the Sorcerer's Stone.

10.20.01 - The special episode of The West Wing, "Isaac and Ishmael," gets a bad review on page 19 of the October 19th issue of Entertainment Weekly.

10.12.01 - Zap2It.com: John Wells Headed to 'The Court' - John Wells may be taking over the gavel on Sally Field's midseason drama for ABC, "The Court." The executive producer of shows including "ER" and "The West Wing" is in talks to take over as "The Court's" producer, along with "ER" veteran Carol Flint....

10.5.01 - Last Wednesday's special episode of The West Wing drew an incredible 9.8/24 among A18-49, a record high for the series, and 25.24 million viewers, also setting an new record, according to Nielsen Media Research.B That demo rating is also the highest for NBC in the 9-10pm time period on a Wednesday night since May 13, 1992 (Night Court). Law & Order followed with a 8.8/23 demo rating, the second highest demo rating in this series' history, and the highest total viewers with 22.5 million. NBC began the evening with the final episode of Lost earning a slow 2.9/8.B For the evening, NBC lead the A18-49 demo category with a 7.2/19.

10.1.01 - Awards expert Tom O'Neil reports that Martin Sheen will attend Sunday's Emmys ceremony despite talk that he would skip the show out of fear it might look like a frivolous Hollywood indulgence during a time of national crisis. An outspoken liberal, O'Neil predicts that "we can probably count on him to make an interesting acceptance speech."

9.24.01 - A special stand-alone episode dealing with some of the questions and issues currently facing the world in the wake of the recent terrorist attacks will air on October 3rd, and the season premiere has been pushed back to October 10th.

9.13.01 - Due to disaster coverage on NBC, the season premiere of The West Wing has been pushed back to Wednesday, September 26th.

9.9.01 - The West Wing won four Creative Arts Emmys, including Outstanding Casting for a Drama Series, Outstanding Cinematography for a Single-Camera Series ("Noel"), Outstanding Single-Camera Picture Editing for a Series ("Two Cathedrals"), and Outstanding Single-Camera Sound Mixing for a Series ("In the Shadow of Two Gunmen, Part II").

8.24.01 - According to the September issue, the October Playboy Interview will focus on The West Wing. The blurb reads as follows: The West Wing--Polls show that if President Bartlet were real, he would have won the election. David Sheff drops by the set of Aaron Sorkin's hit for talk about tuned-in politicos, cast members who've kicked drugs and Allison Janney as the thinking man's pin-up. A wide-ranging Playboy Interview with the cast and creators.

8.17.01 - "West Wing" takes Middle East angle
By Army Archerd, Daily Variety Senior Columnist

HOLLYWOOD (Variety) - A bombing in Tel Aviv with one American killed -- that's the storyline on which the "West Wing" troupe had just done a cold reading for the fourth episode of the new season.

The company emerged from the reading to be told of the suicide bombing in Jerusalem in which an American had been killed. "It was mind-blowing," said Richard Schiff (he plays Toby Ziegler), one of the series' eight Emmy-nominated thesps (that tally includes guest actor Oliver Platt).

"Hopefully," Schiff told me, "this is the last time our nonfiction reflects the fiction." But he praised Aaron Sorkin's "profound understanding of the foibles of humans -- that people sometimes force themselves into thinking certain things. His understanding of that phenomenon is amazing!"

Sorkin, who also chronicled his own foibles that led to his drug arrest (and resulting probation) "is in good spirits," Schiff said. "I've never seen him better. To create the way he does each week -- it's like he has a conduit from some divine power."

Schiff admitted he'd also given Sorkin some of his own story ideas. "He might discard them -- or give them to somebody else -- but I'm very happy. I've even told him I don't mind not talking; I could use a couple of days off."

Schiff was one of the group of four who signed "the very expensive indentured servitude" new (seven-year ) "West Wing" deal. Before returning, he also completed feature "I Am Sam" with Sean Penn and Michelle Pfeiffer, and a legit outing at Vassar in Joanna Murray Smith's "Nightfall," a "nonstop 97 minutes on stage, when halfway through I'd ask myself, 'Why can't I be in the Caribbean?"'

His wife, Sheila Kelley, has been equally busy, with a stint at Vassar while winding the feature "Dancing at the Blue Iguana," which she wrote, produced and stars in as one of the strippers -- along with the also disrobing Daryl Hannah, Jennifer Tilly and Sandra Oh. Kelley, a former ballet dancer, had been exploring strip clubs for 10 years. Schiff accompanied her on all these investigative forays. After seeing his wife nude on stage/screen, Schiff said, "It was not offensive to me. After all, I get to take her home."

Reuters/Variety REUTERS

8.15.01 - Zap2It: Rob Lowe To Host "NBC FALL PREVIEW SHOW" - NBC allows audiences a first-look at the network's new and returning series this fall with "The NBC Fall Preview Show," a half-hour program of upcoming highlights hosted by Emmy Award nominee Rob Lowe...

8.10.01 - The West Wing won a Family Television Award for favorite drama.

8.10.01 - Don't miss the revealing interview with Aaron Sorkin in the August 11th issue of TV Guide.

8.8.01 - TV Guide Online: Death Becomes Mrs. Landingham - Choose life? Poppycock! According to Kathryn Joosten, dying well is the best revenge. After The West Wing put down President Bartlet's no-nonsense secretary Mrs. Landingham in May, the actress's popularity jumped up...

8.4.01 - iafrica.com: Rob Lowe wants to be 007

8.1.01 - Tim Matheson, who plays the vice president on "West Wing," only did four episodes of the series last season, but could be seeing more action now that it's been announced Martin Sheen's President Bartlett has multiple sclerosis. "I ran into a couple of the producers, and they said, 'We've got some great stuff cooking for you.'" He will have to juggle "West Wing" duties with his upcoming CBS series, "Wolf Lake," in which he stars with Lou Diamond Phillips. Matheson plays the sheriff of a town where the residents "have the ability to become wolves ... I've never seen anything like this show. It's so different and so out there ... that's what intrigued me." ©2001 Marilyn Beck and Stacy Jenel Smith

8.1.01 - TV Guide Online: West Wing's Full-Time First Lady - A busy star of stage and screen, Stockard Channing never expected to tie herself to a TV gig. But when the show's third season kicks off this fall, her First Lady/presidential physician Abby Bartlet will go from recurring to regular status...

8.1.01 - Aaron Sorkin is denying that Martin Sheen threatened to quit The West Wing unless Sorkin kicked his drug habit. "It is simply, absolutely, completely not true," Sorkin insists to TV Guide in an issue out Monday. "Frankly, Martin was concerned that at my arraignment I pleaded not guilty, and he didn't understand that. He thought I was trying to skate something. Martin thought it was a sign of some kind of denial." (Sorkin later pleaded guilty to possession of hallucinogenic mushrooms, crack cocaine and marijuana, and was ordered to enter a drug diversion program.) Sorkin adds that Sheen told him, "in the most loving possible way that I was more important to him than the show, and that he would quit the show to help me. And somehow this was turned into a story that we were having a fistfight and that he had threatened to quit the show unless I went to Betty Ford."

8.1.01 - West Wing creator did drugs only in spare time

NEW YORK (Reuters) - Aaron Sorkin, creator of NBC's popular, Emmy-winning drama "The West Wing" said in two magazine interviews that his April arrest for drug possession was the result of sporadic, not chronic drug use and that he indulged only during his rare down time.

Sorkin, 40, was arrested at Burbank airport on April 15 as he prepared to board a flight for Las Vegas after airport employees found marijuana, rock cocaine or crack, and hallucinogenic mushrooms in his bag.

"It was stupid," Sorkin told TV Guide in its new issue available Friday. "I had just been to the wrap party (celebrating the final episode) the night before. It was a stupid way of celebrating that the pressure was off."

Sorkin, who has a four-year, $16 million contract with Warner Bros. Television, pleaded guilty to two felony charges and a misdemeanor and was sentenced to probation. He also must undergo random drug testing, which he said he assumed would continue for the duration of his two years of probation.

Sorkin, who in 1995 went through drug treatment at the Hazelden Institute in Minnesota, told TV Guide and Talk Magazine that his sobriety has been broken since 1997 by occasional drug use.

"From time to time I would smoke pot" to relax, he told TV Guide, likening it to a martini at the end of a long day. "And say 'Now I need to have this other thing,"' which was crack.

He said he has used crack fewer than five times in the last two years, a far cry from the daily habit he had when he entered Hazelden. At that point, he said, he would regularly shut himself away in hotel rooms where he would freebase cocaine, unable to work.

In recent years and during his time working on "The West Wing," which won nine Emmys last year and was nominated for 18 more this year, Sorkin said his drug use came only after work was done and as a way to celebrate the pressure being off.

"There's no way I could be writing high and not have people know," he told Talk magazine in its September issue.

But he admitted "it's been a summer of bad publicity for the show, and it's almost entirely my fault."

Sorkin, now working on the show's new season, separated from his wife after his arrest but said their relationship was very friendly and that they see each other daily.

Expressing his determination to stay clean, he told Talk "This has been such a public nightmare for me, there's no possibility that I would mess with this or take any chances."

"I'm really no longer going to be the guy who wrote 'A Few Good Men.' I'm going to be the guy who got in drug trouble."

Reuters/Variety REUTERS

7.27.01 - Allison Janney, Richard Schiff, Bradley Whitford and John Spencer have all signed new agreements with Warner Brothers. The four will receive around $70,000 per episode (compared with nearly $30,000 before) but have also signed for an additional year. They are all now signed through a seventh season of The West Wing.

7.25.01 - From TV Guide Online: In real life, White House staffers serve at the pleasure of the president. But on The West Wing, cabinet members and coffee makers alike serve at the pleasure of a far more fickle world power: the NBC drama's opinionated audience. So, while the soaring post-mortem popularity of President Bartlet's no-nonsense receptionist, Mrs. Landingham, may enable actress Kathryn Joosten to continue to haunt the Oval Office, the prez still is going to need a warm body to field his calls. The question is: Who?

"I don't know yet, but somebody will," series creator Aaron Sorkin promises TV Guide Online. "I just haven't thought of who the character is, so obviously I haven't thought of who the actor or actress is."

For her part, the politically correct Joosten has some very specific ideas about what type of person should sit behind the desk of the dearly departed. "I told the powers that be that I thought that it should be a middle-aged, ethnic woman," she relates. "There are too few roles for middle-aged and ethnic women to begin with.

"It couldn't be a 22-year-old in an executive-secretary position, anyway," she adds. "That just wouldn't happen."

7.24.01 - Sorkin Hears An Earful From Mrs. Landingham Fans by Walt Belcher

PASADENA, Calif. - "The West Wing" producer Aaron Sorkin says he has had second thoughts about killing off President Bartlet's secretary last season - especially when his dentist, preparing to inject his gums with a long needle, whipped back the chair and asked, "Now, why did you kill Mrs. Landingham?"

Sorkin faced critics Saturday at an NBC fall preview party and later at the Television Critics Association's annual awards show, where "The West Wing" tied with "The Sopranos" as the critics' picks for best dramas of the season.

Once again, Sorkin apologized for his "stupid and embarrassing mistake," his April arrest at Burbank Airport for possessing cocaine, marijuana and hallucinogenic mushrooms in his carry-on bag.

"The West Wing" seems to be having other problems, such as actors who want more money and writers who aren't happy with the way Sorkin treats them.

Viewers, however, have been upset over the demise of the beloved Delores Landingham, played by Kathryn Joosten. The character died in an auto accident in last season's finale.

Sorkin said the response has been amazing, as if a real person had died. "The worst part of killing Mrs. Landingham was losing Kathryn from our cast," he said.

He recalled that the idea to kill the character came to him when the cast attended a charity banquet, and he and Joosten went outside for a cigarette.

"She happened to mention that she was going out for a pilot, and I didn't hear a thing she said because I started thinking about what it would be like if she left us," he said.

"Then I kept thinking about it and saw Mrs. Landingham's death as a way to take the president right to the edge and question God.

"Now the joke around the set is, `Don't take a smoke break with Aaron,' " he added.

Sorkin said most of the recurring characters from last season, including Oliver Platt, will be back, as well as new recurring characters played by Ron Silver, Evan Handler and Connie Britton (as campaign consultants).

7.23.01 - The Star-Ledger: Embattled 'West Wing' creator meets the press

7.22.01 - The DallasNews.com: Sorkin's drug subplot ending

7.19.01 - Daily Variety reports Ron Silver (Chicago Hope), Connie Britton (Spin City), and Evan Handler (It's Like You Know) have signed on to play recurring characters on The West Wing.

7.19.01 - "Spawn," starring Martin Sheen, will air on the WB on Wednesday, August 1.

7.17.01 - Rob Lowe told TV Guide Online that Aaron Sorkin is bringing on a new character this season that will have ties to Sam Seaborn. "There's going to be a beautiful, smart character added to the show, but I'm not going to tell you in what capacity; it'll be a surprise," he winks, adding that the mystery person "will complicate Sam's life."

7.17.01 - Variety reports that Stockard Channing has been made a series regular.

7.17.01 - The four actors who did not show up for the first day of rehearsals last Monday did show up yesterday and all is right with the world again. As to the salary increases, negotiations continue.

7.12.01 - The West Wing received 18 Emmy nominations including Outstanding Drama Series; Outstanding Actor for Martin Sheen and Rob Lowe; Supporting Actor for Bradley Whitford, Richard Schiff and John Spencer; Supporting Actress for Allison Janney and Stockard Channing; Guest Star for Oliver Platt; Directing for Tommy Schlamme ("In the Shadow of Two Gunmen") and Laura Innes ("Shibboleth"); Art Direction, single camera series ("Noel"); Casting; Cinematography, single camera series ("Noel"); Single Camera editing ("Two Cathedrals"); Music Composition in a Series for W.G. Snuffy Walden ("In the Shadow of Two Gunmen"); single camera sound mixing ("In the Shadow of Two Gunmen, Part 2"); writing for a drama series, Aaron Sorkin ("In the Shadow of Two Gunmen").

7.11.01 - Brad Whitford, Allison Janney, Richard Schiff and John Spencer did not show up on Monday, July 9, for the first table read of the season. Although sources say this is not a big deal, the four are attempting to renegotiate their contracts. Currently they earn about $30,000 per episode and are hoping to have that increased to $100,000. Martin Sheen and Rob Lowe, who are not included in the negotiation, earn in the neighborhood of $100,000 per episode. If the four do not return by the time filming begins on Monday, July 16, they will be in breach of contract.

7.3.01 - Wanda at E!Online reports that there are some ugly times over at the West Wing production office. First, Aaron gets arrested for drugs, then Martin issues his threat that he'll leave if Aaron doesn't get help, then Aaron splits with his wife and now the writers, who are tired of putting up with Aaron' s 11th-hour changes, are starting to jump ship. The WW's head writer and coproducer, Lawrence O'Donnell, quit last week, saying he's moving on to another D.C.-based show. It's CBS, and it's midseason, so things must be pretty hellish.

7.2.01 - Rob Lowe will be on the July 4th episode of "Primetime Glick" on Comedy Central.

6.28.01 - CNN.com: West Wing Bosses Defend Writer Cutbacks

6.28.01 - Martin Sheen, along with over twenty other activists, was charged with trespassing Wednesday, June 27th for an October 7th protest of the "Star Wars" missile defense system at Los Angeles's Vandenberg Air Force Base. Sheen was sentenced to probation and fined $500 after pleading guilty. Despite his plea, Sheen maintains his political stance. "I can't think of a more important issue to protest," said Sheen during a recent press conference. "I have a prior engagement with 'The West Wing,' another year on my contract, and I can't risk losing [at a trial] and going to prison for six months," he added, explaining his plea. "Morally, I'm bound to fulfill my contract."

6.28.01 - Starting July 11th and going through August 8th, NBC will be showing some select reruns from the first season. So if you caught onto The West Wing late, and wish you'd seen more first season episodes, don't miss these reruns. For more details, see the previews page.

6.21.01 - The cast of The West Wing will begin shooting season 3 on July 9th. The season premiere will air September 19. It will again be a two-part episode, but this time shown over two weeks. In addition, there will be 23 episodes this season instead of the usual 22.

6.20.01 - Aaron Sorkin pleaded guilty to possession of hallucinogenic mushrooms, crack cocaine and marijuana. In exchange for his plea, he must enroll in a drug diversion program. If he manages to stay sober for 18 months--his progress will be monitored through a series of periodic court hearings--the drug charges will be wiped from his record. "Needless to say, it is a relief to have a resolution regarding my legal situation," Sorkin said in a statement. "I fully intend to proceed as directed by the court and am eager to get back to work and focus on what's important."

6.17.01 - National Lampoon's "Animal House," starring Tim Matheson (Vice President John Hoynes), will air on NBC on Saturday, June 30th.

6.15.01 - Wanda at E!Online reports that rumors are flying that Martin Sheen threatened to quit The West Wing if Aaron Sorkin didn't get some help for his drug problem.

6.5.01 - Aaron Sorkin's scheduled drug diversion hearing has been postponed from Monday (June 4) until June 19 because "The West Wing's" creator is recovering from back surgery, Inside.com reports. Sorkin, who pled not guilty last month to two felony counts and one misdemeanor charge of drug possession, is seeking admission to a "deferred entry of judgment" program that would replace prison time with treatment. Los Angeles Superior Court Judge Alan S. Kalkin issued a bench warrant with a $10,000 bond, which will be held pending Sorkin's required appearance at the next hearing. "Mr. Sorkin had pre-planned back surgery, but he's doing fine," says Sorkin's attorney, Steve Sitkoff. He added that his client received a "favorable report from the probation department," and the charges are expected to be dismissed.

5.29.01 - According to Variety, now that the Warner Bros. drama The West Wing finished its sophomore NBC season with heightened prestige and ratings, its cast members are quietly mobilizing to ask for pay hikes. While Martin Sheen and Rob Lowe will be negotiating separately, the quartet of Bradley Whitford, Richard Schiff, Allison Janney and John Spencer are banding together. While separately represented, they've collectively retained attorney Peter Nelson of Nelson Felker Levine and Dern to petition WB president Peter Roth for raises. Dish hears the attorney made first contact this week, and the thesps expect it all to be very civil. Stay tuned.

5.26.01 - The May 26th issue of TV Guide has a short bit on page 4 called "Supporting Staff." The West Wing's scene-stealing assistants make the most of their all-too-brief screen time.

It's fitting that Kathryn Joosten's next role may be as an obituaries editor. The 61-year-old actress saw her signature character, The West Wing's endearingly cantankerous presidential secretary, Mrs. Landingham, die in a car accident in the May 9 episode. Then she appeared as a ghost in the season finale, and she may be back for more spectral appearances next season. "I was told it all depends on if it can be written successfully and if the public accepts it," says Joosten, whose crabby character has needled the commander in chief about everything from the need for more roughage in his diet to his inability to use the office intercom.

The Lake Forest, Illinois, native also has a recurring role on Dharma & Greg and, at press time, was waiting to hear about The Back Page, a potential fall comedy for ABC in which she would play the aforementioned obituaries editor. If that comes through and she does more West Wing episodes, she'll be happy to take on the workload. "That's peaches and cream, as far as I'm concerned," she says. -Rich Sands

NiCole Robinson's West Wing audition consisted of "one funny little line." And portraying Margaret, the dedicated, if ditsy, assistant of White House Chief of Staff Leo McGarry, rarely demands much more. Yet she endearingly makes the most of it, whether revealing that she knows how to forge the president's signature or doing a riff on mice and their predilection for cancer. Describing Margaret as an "efficient and misunderstood" woman who "takes great pride in what she does," the Mesa, Arizona-raised Robinson admits to some similarities to her character. Like Margaret, she is single and lives with cats (Robinson also has a dog and tortoise) and is good friends with Mrs. Landingham (Joosten helped her wallpaper her house recently). The actress can be seen next in the upcoming Denis Leary comedy "Dawg." She plays a former girlfriend of Leary's with, appropriately enough, a houseful of cats. -Ileane Rudolph

5.26.01 - In the May 26th issue of TV Guide, Matt Roush riffs on Oliver Platt: What a difference a well-written, well-fitting role makes. Consider the reemergence of Oliver Platt, as The West Wing's blunt and confrontational White House counsel ("In my entire life, I've never found anything charming"). Platt, a gifted character actor, has rebounded nicely from a potential career killer last fall. If you're lucky, you never saw him in NBC's mercifully short-lived Deadline, as a flamboyant and boorish newspaper columnist who solves crimes. As Oliver Babish, Platt has a role suitable to his talent, a character whose arrogance is tempered by the high stakes of his office.

5.26.01 - Thomas Schlamme is featured in the May 26th issue of TV Guide in their feature on the top 25 risk-takers in the TV industry. You won't find Schlamme, 51, in the spotlight – except when he's accepting awards for his directing on such series as Ally McBeal, Boston Public, Friends and now NBC's hit The West Wing. Whenever you watch a show in which the chemistry clicks, the pace is breakneck and it feels as ifyou're part of the scene, that's the Schlamme touch. His talent transcends directing. "Tommy is very creative, but he also makes you feel safe," says The West Wing's Emily Procter. "He's the glue of the show." Aaron Sorkin, the series's creator and executive producer who first worked with Schlamme on Sports Night, concurs: "I talk to Tommy about the script; he sees the pages first. He has a visual style that will be imitated for our lifetime. Turn on any channel and you can see how many people are trying to make their shows look like his."

5.16.01 - TV Guide Online: - West Wing-ers can relax: The show's creator, Aaron Sorkin, assures TV Guide Online that his recent drug arrest will have absolutely no impact on the Emmy-winning NBC drama. "The law is going to require me to do some things," he says...

5.14.01 - A book of West Wing scripts, edited by Aaron Sorkin, will be published in September 2001. Check out our Books and Music page for more information.

5.14.01 - NBC's official Fall Schedule was released today, and The West Wing will be returning next season in its Wednesday, 9pm ET time slot.

5.11.01 - Mrs. Landingham was remembered on the floor of the California Assembly. According to The Associated Press, Democratic Assemblyman Kevin Shelley adjourned Thursday's session in the fictional character's memory. He called Landingham a "great American" whose "contributions to the nation were too numerous to count." All this must be a bit creepy for Landingham's portrayer, Kathryn Joosten, who is very much alive.

5.9.01 - AOL has a contest where the winner and a friend spend two nights and three days in Los Angeles and have lunch with a West Wing cast member. Each day there is a different trivia question to answer, so you can enter every day until May 16th. This contest is for AOL users only.

5.9.01 - The West Wing has been nominated for an Imagen Award for best TV drama. The 16th annual Imagen Awards, which honor positive portrayals of Latinos, will be presented on June 14th.

5.7.01 - From the AP (via the NY Post): West Wing Director Getting His Due - Thomas Schlamme is convinces the TV directors, who have largely been anonymous figures, are finally coming into their own. He's also one of the reasons it's true...

5.4.01 - Court TV is repeating the episode of "Hollywood Confidential" about Rob and the Estevez boys. There are interviews with Martin Sheen through the episode. It is scheduled to air at 4:30pm ET and 6pm ET on May 16th.

5.3.01 - Aaron Sorkin pleaded innocent Wednesday to charges of possessing hallucinogenic mushrooms, marijuana and cocaine base.

5.2.01 - Dulé Hill has been named one of People's 50 Most Beautiful. More in general. More on Dulé.

5.1.01 - Aaron Sorkin was charged Monday with two felony counts of drug possession - one for hallucinogenic mushrooms and one for cocaine - and one misdemeanor count of drug possession for marijuana, according to a statement released by the Los Angeles County district attorney's office. A conviction on either of the felony drug counts carries a three-year prison term.

5.1.01 - Washington Post: Former President Dines with Fictional President

4.25.01 - TV Guide Online: D.C. Goes Dicey - The Hollywood types behind The West Wing are plagued by even more scandal than recent occupants of the White House. But that won't keep them away from the White House Correspondents dinner Saturday as guests of Michael Bloomberg...

4.16.01 - Aaron Sorkin was arrested on felony drug charges on Sunday for illegal possession of mushroom (yes, those kind of mushrooms) at Burbank airport outside Los Angeles. He was taken to Burbank City Jail and released about three hours later after posting $10,000 bail. He will be arraigned April 30th.

Airport spokesman Gill said Sorkin was booked on a charge of possession of a controlled substance and released three hours later on his own recognizance after a $10,000 bail bond was posted.

Sorkin's publicist issued a brief statement confirming that the producer had been arrested for alleged drug possession on Sunday at Burbank Airport, in the Los Angeles suburb of Burbank, and was released on bail.

"I am glad to be surrounded by such a supportive group of people and am prepared to proceed as directed by my attorney and in the best interest of my family," Sorkin said in the statement.

Sorkin is scheduled to be arraigned April 30, Gill said.

4.16.01 - Rob Lowe has been cast in the new original film from TNT, "Framed." Lowe will play a New York City detective who arrests the central figure in a money-laundering scheme. The witness makes Lowe think twice when he offers him millions to help him escape. Production begins next month.

4.11.01 - Rob Lowe has signed a deal with the footwear company Sketchers to star in a marketing campaign for the company's collection of men's shoes. For more details, see Zap2It's article "Rob Lowe Becomes Footwear Salesman."

4.11.01 - Hollywood's modern-day remake of Shakespeare's Othello, starring Martin Sheen, will finally see the light of day. "O" - which features several high-school murders - was delayed numerous times, in part due to the rash of school shootings. However, indie studio Lions Gate Films has acquired U.S. rights to the pic from Dimension Films, and plans to release it in August on 1,500 screens.

4.10.01 - Don't miss the article by Bradley Whitford's brother about Bradley Whitford himself in this month's Esquire magazine.

4.9.01 - The West Wing has received two Prism Commendations for the episodes "Mandatory Minimums" and "The Portland Trip." Prism recognizes work in which members of the entertainment community take an active role in addressing drug abuse in America. The 5th annual Prism awards, hosted by Jamie Lee Curtis and Richard Lewis, were taped April 4th. No word yet when or where they will air.

4.9.01 - Check out the biography of Martin Sheen at the Entertainment Industries Council, Inc. web site. The page is dedicated to those who make a difference in our communities.

4.6.01 - Zap2It.com: Channing May Play Walters, or Something Like Her - Stockard Channing is in final negotiations to play a Barbara Walters-esque journalist in the upcoming romantic comedy "Life, or Something Like It"...

4.5.01 - Aaron Sorkin has received Syracuse University's highest alumni honor. Sorkin is among six recipients selected for the 2001 George Arents Pioneer Medal for outstanding professional accomplishments, said Chancellor Kenneth Shaw. Sorkin graduated with a degree in musical theater from the College of Visual and Performing Arts in 1983. He will accept his medal in a ceremony at the Museum of Television and Radio in Los Angeles on June 20.

4.3.01 - Aaron Sorkin will turn 40 on June 9. To help him celebrate, fans are being asked to send quirky postcards from their hometown with a birthday message on the card. Please send the card in a sealed envelope to

Sarah Price
10220 Dempsey Avenue
North Hills, CA 91343

The cards will be delivered to Aaron on or near his birthday.

3.29.01 - The West Wing has won its second George Foster Peabody Award. The prestigious award is given by the University of Georgia's Henry W. Grady College of Journalism and Mass Communication. The awards will be presented at a May 21 luncheon at the Waldorf-Astoria in New York. The Peabodys differ from other broadcast and cable awards because they are given solely on the basis of merit, rather than within designated categories. Judging is done by a 15-person national advisory board whose members include TV critics, broadcast and cable industry executives, scholars and experts in culture and fine arts.

3.15.01 - Don't miss Stockard Channing (Abbey Bartlet) in the feature film "Twilight," airing on CBS on Wednesday, March 28th.

3.14.01 - TV Guide Online: Meg Ryan's Bossy Co-Star - Bradley Whitford is not too benevolent as Meg Ryan's boss in the upcoming film Kate & Leopold...

3.12.01 - The West Wing swept the SAG awards with wins for Martin Sheen as Best Actor in a television drama, Allison Janney as Best Actress in a television drama and the entire cast for Best Ensemble in a television drama.

3.12.01 - The West Wing, as usual for awards, cleaned up at the SAG awards last night. Allison Janney won for Outstanding Female Actor in a Drama Series. Martin Sheen won for Outstanding Male Actor in a Drama Series. The whole cast won for Outstanding Ensemble Cast in a Drama Series. In addition, Martin Sheen, along with Sela Ward ("Once and Again"), presented the award for Oustanding Female Actor in a Comedy Series to Sarah Jessica Parker ("Sex and the City"), and Allison Janney, along with Michael Badalucco ("The Practice"), presented the award for Outstanding Ensemble Cast in a Comedy Series to the cast of "Will & Grace".

3.11.01 - Thomas Schlamme won the award from the Directors Guild for achievement in a dramatic series for NBC's The West Wing episode, "Noel."

3.10.01 - "Spawn," starring Martin Sheen, will be airing on Fox on Thursday, March 22nd.

3.10.01 - John Wells's new series, The Second Act, has been given a 13-episode order by CBS. It stars James Cromwell as a US senator who isn't elected for a second term, and then returns home to live with his three grown daughters. John Wells will be co-producing with Lydia Woodward.

3.7.01 - Bravo Network has acquired the off-net cable rights to "The West Wing" beginning in fourth quarter 2003. The straight cash deal guarantees Bravo all episodes produced through 2009, with a library of 80-100 episodes at launch in '03. The deal calls for the show to air anytime M-F, including primetime; the weekend plays are being reserved for broadcast syndication. Bravo's EVP/GM Ed Carroll would not tell me how much the deal was worth (the Warner Bros. reported ask was $1.2 million per ep), he did say it was on par with other "top flight series sold to cable over the past 3-4 years", and "no new ground was broken."

3.6.01 - Allison Janney will be one of the presenters at the 7th Annual Screen Actors Guild Awards, to be telecast on TNT Sunday, March 11th at 8pm ET.

3.5.01 - Aaron Sorkin and Rick Cleveland won the Writers Guild award for best episodic drama for their episode, "In Excelsis Deo," at the 2001 Writers Guild Awards.

3.5.01 - Look for Tim Matheson (VP John Hoynes) in "Second Honeymoon," airing on CBS on Sunday, March 11th.

3.2.01 - Bradley Whitford's guest appearance on "ER" will rerun on NBC on Thursday, March 8th.

2.25.01 - The West Wing won for Best Drama series and Martin Sheen picked up another award for Best Actor in a Drama series at the TV Guide awards. The award show will be broadcast on Fox on March 7. Bradley Whitford is a presenter along with his wife, Jane Kaczmarek ("Malcolm in the Middle"), and Martin Sheen is a presenter as well.

2.20.01 - From the February 26th issue of People: When he's taking a break from the drudgery of staging executive branch make-believe on The West Wing, Rob Lowe - White House Deputy Communications Director Sam Seaborn on the show - likes to keep up-to-date with the headlines on the Drudge Report (drudgereport.com), author-muckraker Matt Drudge's controversial site. "It's got all the political stuff I love," says Lowe. "It's got hard news and also a really nice mix of bizarre info. It's a good place to spend a few minutes surfing." But what would his boss, president Bartlet, think?

2.20.01 - Janel Moloney will be on "Live! with Regis and Kelly" on Wednesday, February 21st.

2.20.01 - Roger Rees (Lord John Marbury) will be guest starring on "Three Sisters" on NBC Tuesday, February 20th and Tuesday, February 27th.

2.14.01 - Although "The West Wing" is not officially available in syndication until 2003, Warner Bros. is pitching the show to cable nets to air in a non-primetime time period for an estimated license fee of $1.2 million per ep (same as ER without the weekend play). Among those considered serious cable prospects are A&E, USA, Turner and Court TV. Reportedly A&E has expressed an interest in airing "The West Wing" in much the same way as Lifetime airs ABC's Once & Again, that is in a post-primetime slot, once a week just few days after the initial broadcast airing. Warner Bros. hasn't said yes or a no, but it hasn't said no.

2.12.01 - WB Promo: Warner Bros.' West Wing proves that quality beats reality. On Wednesday February 7th, The West Wing outperformed Temptation Island in Households and Adults 25-54. President Bartlet and his administration exercised bi-partisan appeal, finishing first in growth from last week among Adults; up +60% among Adults 18-34, +51% with Adults 18-49, and +42% with Adults 25-54. Now that's a victory at the polls.

2.10.01 - Aaron Sorkin was rated the #5 MVP of TV in the February 10th issue of TV Guide. In addition, John Spencer, Allison Janney and Bradley Whitford were named MVP actors of TV and John Wells was named an MVP producer of TV.

2.9.01 - The fifth episode of Temptation on Wednesday night attracted 17 million viewers, just behind timeslot competitor The West Wing (18.2 million viewers). However, among adults age 18-49, Fox's guilty pleasure trounced NBC's White House drama.

2.7.01 - Thomas Schlamme has received a nomination for a Directors Guild of America Award for his work on "Noel". Paris Barclay was also nominated for his work on "The Portland Trip."

2.5.01 - The episode "Noel" was nominated for a Hollywood Makeup Artist and Hair Stylist Guild Award in the category of Best Contemporary Hair Styling, Series.

1.31.01 - From the February 3rd issue of TV Guide: Calista Flockhart, who just adopted a baby boy, isn't the only new mom in Hollywood. Oscar-winner Marlee Matlin gave birth to her second child, Brandon, September 12 (her daughter, Sarah, is 5). "I gained quite a bit of weight during the pregnancy–62 pounds," she says. "Ouch! But I lost it." Viewers can see that for themselves February 7 and 14, when she returns to NBC's The West Wing as political pollster Joey Lucas. And this April, we'll get to view her maternal glow when Kiss My Act!, her ABC movie with Camryn Manheim, premieres; she shot it when she was six months pregnant. "They needed a deaf pregnant woman," she says. "I said to my agent, 'That's a no-brainer.'"

1.30.01 - The West Wing received three nominations for Screen Actors Guild Awards. Martin Sheen was nominated for Outstanding Performance by a Male Actor in a Drama Series, Allison Janney was nominated for Outstanding Performance by a Female Actor in a Drama Series and the entire cast was nominated for Outstanding performance by an Ensemble in a Drama Series. In addition, Stockard Channing was nominated for Outstanding Performance by a Female Actor in a Television Movie or Miniseries for her performance in "The Truth About Jane." This year's awards will be presented on Sunday, March 11th, 2001 at the Los Angeles Shrine Exposition Center and televised nationally on TNT at 8pm ET.

1.30.01 - The West Wing led the final nominations for the TV Guide Awards with six nominations. Finalist nods for "The West Wing" include Drama Series of the Year, an Actor of the Year in a Drama Series for Martin Sheen, a nod for Actress of the Year in a Drama Series to Allison Janney, and two Supporting Actor of the Year in a Drama Series nominations one for Rob Lowe and John Spencer, and Supporting Actress of the Year in a Drama Series nod to Stockard Channing. The awards will be announced on February 24th. The award show will be shown on FOX on March 7th.

1.30.01 - A Warner Bros. promo: On 1/24, THE WEST WING was #1 with Households (12.3/18), rock solid against Fox's Temptation Island (10.9/16) and ABC's Drew Carey & Spin City (7.5/11). Women 25-54 also made THE WEST WING their #1 program (10.3/22).

THE WEST WING built over its lead-in (Ed) in every demographic with Women and Men, and is surpassing its last-season performance with W18-34 (+27%), W18-49 (+38%), W25-54 (+50%), M18-34 (+22%), M18-49 (+40%) and M25-54 (+33%).

WEST WING fans are keeping their feet on dry land!

1.29.01 - The Gay & Lesbian Alliance Against Defamation (GLAAD) today announced the nominees for its 12th Annual GLAAD Media Awards presented by ABSOLUT VODKA. The awards will take place in four ceremonies to be held in New York City on April 16, in Los Angeles on April 28, in Washington, D.C., on May 12, and in San Francisco on June 9. GLAAD also announced special recognition for CBS' Survivor, which featured openly gay corporate trainer Richard Hatch; NBC's The West Wing, which regularly addresses issues of discrimination against the lesbian and gay community; and Equality Rocks, the unprecedented April 29, 2000 gathering of the music industry in Washington, D.C., to promote equal rights for gays and lesbians.

1.29.01 - "Doctor Dolittle," starring Eddie Murphy and Richard Schiff, will air on ABC on Sunday, February 11th and Saturday, February 17th.

1.26.01 - Ratings news: Temptation Island is still proving tempting to many A18-49 viewers, and for the third consecutive week won the time period in the demo. Temptation drew an 8.8/21 with A1-49, down slightly from the previous week, but still good enough for the win over an original episode of West Wing by 6 share points with its 6.4/15. West Wing won in total viewers. Also doing well for Fox on Wednesday evening was newcomer Grounded for Life with a 5.3/14 in the \demo, slipping slight from its That 70's Show lead-in (5.5/15), but building with total viewers half hour to half hour. At 8pm on NBC Ed delivered a 5.3/14 in the demo, beating Millionaire's 4.9/13. Law & Order still owns 10pm with its 7.1/19 demo rating.

1.22.01 - Last night, Martin Sheen won the Golden Globe award for Best Actor in a TV Series - Drama and "The West Wing" won the award for Best TV Series - Drama. Notes from TK: In my humble opinion, Sheen gave one of the best acceptance speeches of the whole night, and when Dick Clark asked him if he would ever consider running for a real political office, he said he's always been an actor and doesn't want to be anything else but an actor. He also said that he and his son, Charlie Sheen (ABC's "Spin City"), were hoping that some day they could appear on each other's shows, but the two different networks weren't having it. Thomas (Tommy) Schlamme accepted the award for the show. (I didn't know Schlamme was married to Christine Lahti!)

1.21.01 - From the Jan. 20th issue of TV Guide: "Fans of NBC's White House drama The West Wing may have noticed some similarities between Ainsley Hayes (the character played by Emily Procter) and real-life ex-Nixon speechwriter and conservative commentator Peggy Noonan. So we got the scoop straight from the source. 'I have no reason to believe Ainsley Hayes is based in any way or to any degree on me - none,' says Noonan. But: 'I wrote [creator] Aaron Sorkin a note telling him that when I first saw her I knew I'd helped inspire her because I have legs exactly like her legs - inside my legs.' Now you know."

Does anyone else not entirely get this?

1.16.01 - Vote for your favorite episode of "The West Wing." The two highest vote getters were air on February 18th.

1.16.01 - According to an article in The Philadelphia Inquirer, George W. Bush offered to do a cameo appearance last year. Reportedly Aaron Sorkin was pleased, glad to know that someone was watching the show. Bob Dole has also offered to appear although it appears that neither man will be joining the cast any time soon.

1.16.01 - The West Wing received a nomination for the Norman Felton Producer of the Year Award from the Producers Guild of America. The Golden Laurel awards will be announced March 3rd.

1.16.01 - TV Guide Online: Of course they're sexy! Former bad boys Rob Lowe and Charlie Sheen heat up our Wednesday nights. Only one can be sexier though, and your vote could decide!

1.12.01 - "The West Wing" received three nominations for the Writers Guild Awards. The nominations are for Enemies (Teleplay by Ron Osborn & Jeff Reno, story by Rick Cleveland & Lawrence O'Donnell & Patrick Caddell), In Excelsis Dei (Written by Aaron Sorkin and Rick Cleveland) and Take this Sabbath Day (Teleplay by Aaron Sorkin, story by Lawrence O'Donnell & Paul Redford and Aaron Sorkin).

1.8.01 - Bradley Whitford presented the People's Choice Award for Favorite Female Musical Performer to Faith Hill last night.

1.2.01 - "The West Wing" is the top show of TV critics across the country, beating out "Malcolm in the Middle" for the top slot in Electronic Media's biannual critics poll. More...

News Archive 1999-2000